ATV Speakers Review – UPDATED for 2021 – The Ultimate Guide
Off-roading enthusiasts know that nothing can match the excitement of a great set of ATV speakers. An ATV speaker produces a full-range stereo sound that takes the outdoor experience to a whole new level. They are uniquely designed for the rugged ATV environment they'll live in – and they'll need a distinct set of features and rugged construction.
To help you choose the right ATV speaker, I've created this guide that explains the different types of speakers available in the market and reviews the top options. I present some of the best ATV speakers with their features and discuss that you should think about if you're buying a speaker for your ATV.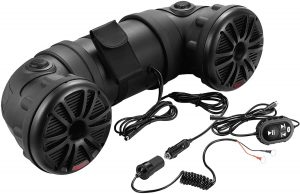 ATV Bluetooth Waterproof Speakers
A reliable set of ATV speakers with solid Bluetooth connectivity is important if you're going to be storing songs on your phone. When you travel deep into the woods, there is no guarantee that you'll have enough range to get new music. So you might need to store it and bring the music with you. A high-quality Bluetooth-compatible ATV speaker with a waterproof rating is all you need to stay entertained during the trip.
NOAM NUTV4 Waterproof ATV Speaker
Designed to deliver outstanding sound quality, the NOAM NUTV4 is a set of waterproof, high-performance speakers built for high-quality audio output when riding the ATV. It is a set of four 4-inch, marine-grade speakers with a Bluetooth remote and a 4-channel amplifier. The speaker lets you play music directly from your smartphone or through the aux input. The waterproof speakers feature weather-resistance and are built to withstand outdoor elements. The ATV speaker can be easily mounted on a roll bar with the included mounting pads.
Click here for the lowest price available.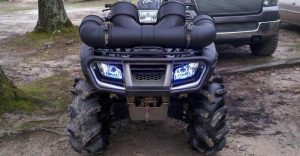 Bazooka 8" Waterproof ATV Speaker
Another excellent choice for a waterproof speaker is the Bazooka ATV speakers with 450watts of peak power. The marine-grade coaxial speakers come with a tweeter to deliver high-performance sound. It features an open grille design for easy cleaning and LED illumination for a fun touch to the ATV ride. The integrated Bluetooth functionality not only allows streaming music wirelessly but also lets you carry out hands-free communication when the speaker is paired with a Bluetooth-enabled phone.
Click here for more information.
Boss ATV Speakers
As one of the most reputed brands for high-quality, affordable sound systems, Boss offers some of the best ATV speakers out there. They deliver the sound quality you'd expect from much more expensive units. With Boss ATV speakers, you get value for money as well fantastic sound quality mixed with rugged design.
Click here for the lowest price on Amazon for the Boss ATV speakers.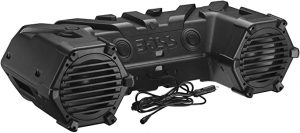 Boss Audio ATV20 Powersports Audio System
This speaker comes in 6.5 as well as 8-inch size options and can be purchased with or without Bluetooth compatibility. It includes a built-in 450-watt amplifier and all the mounting hardware. Being completely marinized, this speaker is corrosion and weather-resistant. You can stream music from your device wirelessly with the Bluetooth-compatible speaker and use services like Pandora and Spotify. All the versions come with an Aux input and a storage pouch. It is made out of sturdy materials and can handle the bumps of off-road tracks without any impact on performance.
You can see more details here.
Boss ATV85B Powersports Plug and Play System
This Boss system is designed to suit ATVs with its weatherproof, UV-coated construction and ease of installation. It contains 8-inch speakers and 1.5-inch tweeters along with a 700watt amplifier. The powerful speakers are Bluetooth-compatible and allow streaming music from online services without having to connect any cables. It also has Aux input for connection to other devices. It is made out of durable components and is lightweight in design. It is highly rugged and can go on your ATV without any quality loss.
Click here for the best price on this incredible sound system.
Weatherproof ATV Speakers
Weather-resistance is one of the most important features for ATV speakers. These speakers deliver great sound performance and resistance to water and extreme weather conditions. They feature high-performance acoustic drivers to provide excellent sound quality in noisy outdoor areas and the disturbance from your vehicle. They are often constructed to be weather-proof and deliver rugged performance in any climatic condition.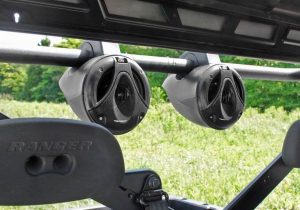 Pyle Marine 800W Waterproof ATV Speakers
A highly powerful ATV speaker with LED lighting, Pyle Marine comes with poly injection speaker cones and tweeters for optimum weather-resistance. These speakers feature a unique tube design to deliver maximum sound projection and work with UTV and ATV vehicles. They have a max output of 800watts and come with a 2-channel amplifier to produce the desired sound. IP 44 marine waterproof rating protects the speaker from water and rain.
Here's where you can get the Pyle Marine speakers.
Sound Storm BTB6 Waterproof ATV Speakers
One of the best weather-resistant ATV speakers designed for audio applications, the Sound Storm BTB6 allow streaming music from your Bluetooth smartphone. The speakers come with waterproof poly-injection speaker cones, tweeters and amplifiers for amazing sound and volume. This plug-n-play speaker is easy to use on ATVs and works with 12V power sources.
Click here for more information on the Sound Storm Speakers.
Polk Audio MM1 5.25" Waterproof ATV Speakers
Designed to deliver excellent sound performance for custom installation, the Polk Audio comes as a set of 600watt ATV speakers with a 1" tweeter and 5.25" driver. With a peak power handling capacity of 300watts per speaker, they provide crystal clear audio performance. Marine-grade construction ensures they are waterproof and withstand outdoor elements. They also feature non-corrosive fiberglass-reinforced components.
You can find more information on the Polk Audio speakers here.
The Best ATV Speakers – How Do You Choose?
An ATV goes through a lot of impact and vibration and its speakers need to be able to hold up under that kind of abuse. The speaker should have a weather-resistance rating to withstand extreme weather conditions. Apart the sound quality, make sure you buy speakers that are easy to install. Vehicles come in different sizes so you should check for the size of the speaker mounting to make sure it will fit.
Next, look for the connectivity options the speaker system offers. Some might offer Bluetooth while others don't. But if you want to play your favorite music off of the different streaming sites you'll need support for Bluetooth. But if you're happy using your playlists already on your device, an aux input will do the job.
A lot of big brands offer ATV speakers with numerous different features to suit every need. And truthfully, a lot of it comes down to how much you want to spend. It becomes a balance between budget and the features you want.
Just don't go crazy and spend a lot of extra money on features you don't need. There are a a lot of great options out there, and any of the ones I've reviewed here will get the job done.
If you're looking for more ATV attachments, you can click here for more ideas. Or you can check out something like our atv sprayer review.