UTV Winch – UPDATED for 2021 – A Complete Guide
Most people only think you need a UTV winch if you get into trouble.
Like if you're riding and you get stuck.
But that's not the only thing you can use a winch for.
From various tools like snowplows or snowblowers a UTV winch can really help you achieve the full potential of your UTV.
So UTV winchs are fun-raisers in addition to making your work easier.
Even with that said, no matter how powerful your ATV is or how big the tires are, there comes a time when you get stuck.
And this is where a high-quality winch can save you when you find your self in a situation like this.
But choosing the best UTV winch from all the options out there isn't so simple.
And this why I created this guide to help you understand what you should look for when choosing between the different available models. I'll get into some of the features you should consider and review to help you make an informed decision.
The UTV Winch Complete Guide
As you know a winch is typically mounted on the front bumper of your UTV. And is mainly there to help pull out other vehicles, logs or other things that are stuck or in your way.
And it can often do this effortlessly.
So whether you're getting yourself or someone else out of trouble, it's an important tool that you shouldn't rush into purchasing.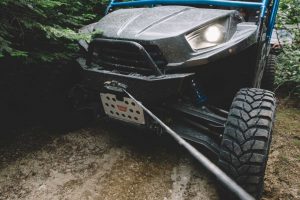 What To Look For in a UTV Winch
With that out of the way, let's get into some of the most important features you should consider when choosing the best UTV winch from the options available.
Brand
To get a high-quality winch, you should start by looking at the available models from reputable brands. These top brands are often well-known for having produced quality products for many years. A quick tip to help you start deciding between models is to look through the customer reviews online to see what other people's experience has been.
Pulling Power
The UTV winch you buy should have sufficient pulling power to pull your vehicle. A quick way to figure out the pulling power you need is to check your UTV's weight and multiply it by 1.5. That will get you in the ballpark.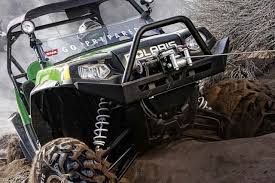 Mounting
Go through the mounting instructions for the product to find out how easy or hard it will be for installation. Checking the reviews is a great way to find out how easy people found it to mount. Also, make sure the winch ships with all the parts you need to complete the installation. So make sure you've got any and all mounting plates or hardware that might not come by buying just the winch.
Rope Vs. Cable
Cable, as well as rope, has its benefits but the choice is ultimately up to you. A cable is an expensive but sturdy option while rope is low-cost and flexible. Consider your applications to determine what works right for you. If you're not sure which you should choose, you can check our ATV Winch Rope Guide here.
Safety
You should be aware of any safety features available that makes use and operation of the winch smoother and safer. A high-quality UTV winch should come with the safety components you need to be safe. One thing that's nice to have is a remote switch where you can operate the winch without having to be on the UTV at the same time. This way you can stand off to one side and run the winch. And this is nice if your UTV is buried in mud 🙂
Motor
The motor is also an important consideration. Above all else, you need to buy a sealed unit to keep all the mud, dust, and water from coming into the moving parts of the motor. Don't just look at the pulling capacity. Because if the winch motor isn't sealed properly, you'll end up burning it out when junk gets into the motor. And then you'll end up having to buy a new winch when it dies.
Length and Speed
You should take some time and figure out exactly how far you want the line to reach. Sometimes it's helpful to actually measure out a certain distance so you can actually see the length. Another thing to keep in mind is the line speed because it determines how fast you can winch out and get the task completed.
Materials
A UTV winch is a long-term investment. So you want it to be made of high-quality materials. Go through the specs of the product to learn what its parts are made of and that it is built to last. Look for models that feature a strong coating like powdercoating.
Price and Warranty
Saving money is always at the top of everyone's list. But it's important to really weigh out the price against the features and durability to determine the total value of the winch and whether it offers good value or not.
Aside from that, having a warranty is nice to know that you're covered in case something goes wrong.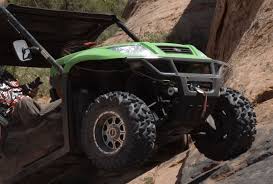 The Best UTV Winch Reviewed
So, with that out of the way I've reviewed some of the best options for a UTV winch to help you get started in your winch buying adventure.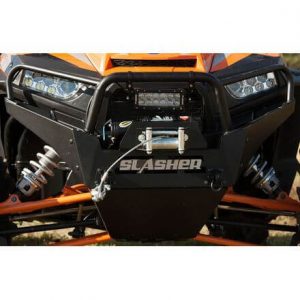 A great choice for a 4500 lbs winch, the Superwinch is an efficient UTV winch with a sealed 1.6 HP magnet motor that features mechanical load holding and a dynamic brake. It also comes with a steel planetary gear and durable bronze bearings. You also get a four-way roller fairlead and weather-sealed solenoid contact. It is a great choice for those who look for a smooth operation.
Pros
Durable construction
High rating
Heavy-duty steel rope wire included
Lifetime warranty
Cons
Customer service is not super responsive
Click here to see the lowest price available on Amazon.
This UTV winch is great for those who want optimum pulling capacity. It comes from one of the biggest brand names in the industry and includes a 5-year mechanical warranty. A fully-sealed motor helps prevent outside elements from getting into the motor. It features a durable design with a permanent magnet motor, dynamic brake and a differential planetary gear train. It also has a mini rocker control which is simple to mount on the UTV.
Pros
Industry-leading brand
High pulling power
Heavy-duty construction
Extensive warranty period
Cons
Click here to check the lowest price on Amazon here.
This is another amazing UTV winch that comes with all you need to install it. The tool has a pulling capacity of 4500 lbs and suits small to large UTVs. The kit includes a handlebar-mounted rocker switch, 65 feet rope, solenoid, metal hook, fairlead and wires for connections. It is compatible with a 3 x 4.875-inch mounting bolt pattern and suits all the major brands of UTV.
Pros
Waterproof remote handlebar rocker switch
Installation hardware included
1-year warranty
Cons
Build quality could be better
Click here for the lowest price on Amazon.
Our UTV Winch Conclusion
The main thing I recommend is that you look for a winch with some good positive reviews, that is a sealed unit, and has enough pulling power for your rig.
After that, it's just a matter of you choosing between the different options you're looking for. If you're looking for an ATV winch, you can check our ATV winch review here. Of you could check out more of our industrial implement reviews here.