ATV Helmets Review – UPDATED for 2021 – A Complete Guide
Wearing a ATV helmets is crucial for riders to stay safe when they're going off-roading. Helmets are a great way to prevent head injuries some of which could result in disability and even death. This is why it's important that you choose the ATV helmet carefully.
However, the market for ATV helmets is so huge it becomes overwhelming for buyers to pick the right one. This is why I've created this guide with top-rated ATV helmet reviews to help you find the best product for you.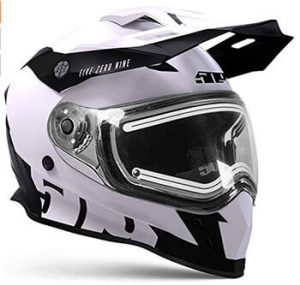 Youth ATV Helmets
There are several options when it comes to picking the perfect ATV helmet for teenagers. Youth ATV helmets have smaller dimensions than adult models and have some extra styling and comfort features. Let's look at some of the best options for youth.
TCMT Dot Youth Dirt Bike ATV Helmet
Another well-designed helmet that meets safety standards from DOT, the TCMT is comfortable and suitable for kids. It includes matching goggles and gloves to let riders look stylish when on the ATV. Its ventilated design makes sure you can wear it all through the year.
Features
DOT certified
Comfortable, cushioned interior
Lightweight, durable composite shell
Glossy UV-protected finish
Ventilated design
You can find the lowest price on Amazon for the TCMT DOT Youth Dirt Bike ATV helmet here.
Hard Heads Helmets (HHH) DOT Youth & Kids
This is a great choice for those who want to find something that's a bit more appealing to their young kids. It comes in a wide variety of designs and colors and several size options to suit youngsters. It is perfect for a high-quality ATV helmet at an affordable price.
Features
Meets DOT standards
Available in small, medium, large size options
Comfortable, cushioned interior
Removable padding for washing
Variety of colors to choose from
Comes in a bag
You can check out the HHH line of helmets on Amazon here.
Kids ATV Helmets
Children under the age of 18 must wear a helmet when riding an ATV by law. A DOT-certified ATV helmet protects your child from getting hurt in case they have some kind of accident. If the vehicle rolls over, a helmet can protect the head and save your kid. Let us look at some of the best Kids ATV helmets.
TCMT Blue Skull Helmet Bundle
If your child likes bright colors, this helmet is a great pick! This helmet is a value for money with free gloves and goggles. It is a popular choice for entry-level ATV riders. It is DOT certified and provides safety and reliability. However, it does not offer much ventilation and breathability.
Features
Sleek modular design
Beautiful UV protected finish
Lightweight and durable
Vented for winter and summer use
Available in several size options
You can check out the TCMT helmet bundle here.
Vega Mighty X2 ATV Helmets
A great value product for those who want to keep their kids safe while driving ATV, this helmet comes in an attractive high-impact design. It features exhaust ports to provide ventilation and suits all-year use. It comes in a variety of size options to choose from. The helmet has a removable liner, multipoint visor and is lightweight with an ABS shell.
Features
Multi-channeled high-density EPS liner for airflow
Lightweight polycarbonate construction
Meets US DOT standard
Comfortable and breathable
Includes padded D-ring strap and lined chin bar
You can check out the Vega Mighty here.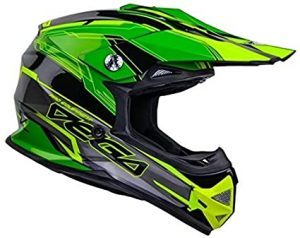 Toddler ATV Helmets
It is essential for ATV riders of every age to wear protective gear like a helmet to be safe from injuries. Whether your little one rides an ATV with a parent or its own motorized small vehicle, you should get a good toddler ATV helmet. These helmets are smaller in size and provide a solid defense to avoid any head injury.
Typhoon Kids Full Face Helmet with Visor Shield
You can rely on this kid's helmet that offers extra protection with a face shield. This is a DOT-certified helmet that comes with a replaceable clear shield. It has smaller dimensions with the smallest size measuring 18.5-19.5 inches ideal for toddlers.
Features
Clear single lens shield can be lowered and raised and even replaced
Durable and lightweight design
Removable interior lining
Intake and exhaust vents allow optimum airflow
Includes drawstring helmet bag for easy storage and transportation
Available in a variety of sizes and colors
Here's a link to the Typhoon helmet on Amazon.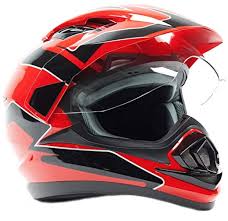 WOW Youth Full Face ATV Helmet
The colorful toddler ATV helmet from WOW has an attractive aerodynamic design and comfort. It is DOT-standard compliant and guarantees safety and durability. It comes in a variety of color options that you can see here.
Features
Well-vented for comfort
Heavily cushioned interior for a soft feel
Thermoplastic alloy shell is designed to be lightweight and durable
Washable, removable padding makes it easy to keep the helmet clean
You can check out the full WOW helmet line up here on Amazon.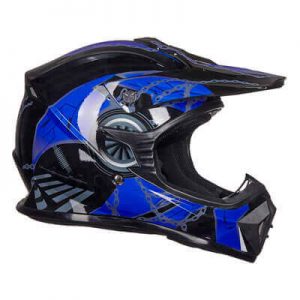 Men's and Women's ATV Helmets
Both men and women can use the same helmets as the fit and construction don't differ by gender. There are several brands offering DOT-compliant adult helmets for ATV riders. Each of these brands offers numerous options differing in terms of materials, designs and styles. Let us look at some of the best ATV helmets for men and women.
Fuel Helmets Full Face Helmet
A lightweight ATV helmet from Fuel Helmets, the SH-FF0016 in gloss black meets the DOT standards and ensures complete safety. It comes with vents for better airflow so that your glasses don't suffer from fogging. There is also a quick-release shield that performs well, adding to the convenience and comfort.
Features
Lightweight thermoplastic shell
Duel vented diffuser for proper airflow
Features quick-release shield
Removable cheek pads for cleaning
Excellent value for money
You can check out the lowest price on Amazon here.
Delta R3L Ignite Helmet
Popular for its finish and fit, the Delta R3L Ignite helmet is probably one of the best looking helmets you can get. And it comes in all sorts of different color options. It complies with DOT safety standards and also has UV protective finish to ensure durability. Heavily cushioned interior makes the helmet comfortable to wear for long hours.
Features
Lightweight and durable aerodynamic construction
DOT-certified for safety
Comfortable, removable, padded interior
Beautiful glossy UV protective finish
Shield can be removed or raised to suit the need
Quick-release buckle for convenience
I highly recommend you check these helmets out here.
YEMA Motorcycle Motocross ATV Helmet
Designed to suit both men and women, the sleek ATV helmet in black finish comes in different size options to find the most comfortable fit. A highly powerful ventilation system makes sure users find this full-face helmet comfortable to wear. It is made using multi-density EPS and has a reinforced chin strap with a quick-release buckle. This is another stylish helmet that you can check out.
Features
Multiple air vents and removable inner lining
Durable aerodynamic construction
Streamlined design for reduced noise and drag
DOT-certified for maximum safety
Removable liner and pads can be washed
If you can't afford the Delta R3L helmet, this might be the next option that you want to check out as it's pretty nice looking.
Conclusion
ATV helmets are an essential accessory for safe and comfortable driving. We hope this guide makes it easy for you to refine your search for a helmet that suits your needs and budget. Always consider the features important to you and invest in a high-quality helmet to stay safe.
If you're looking for other ways to stay safe, I'd suggest looking into an ATV winch. Because it can help get you out of trouble if you get stuck 😉
Or if you're looking for implements, you can look at our atv sprayer review.