ATV Sprayer Review – UPDATED for 2021 – A Complete Buyer's Guide
So you've come to the realization that having an ATV sprayer (and reading reviews on ATV sprayers) would really make your job easier, have you?
If so, then… you're right!
But there's a lot to cover if you're looking for an affordable and convenient way to spray water and pesticides with your ATV sprayer.
An ATV sprayer is perfect for hard-to-reach areas like along fence lines, in potholes or other little nooks and crannies.
(And an ATV sprayer is so much easier to use than trying to lug around a backpack sprayer.)
While there are several options in the market to choose from, finding the right sprayer can be tricky. After all, you want to make sure you're getting something that's reliable and efficient.
But there's a lot to consider when you're buying a new ATV sprayer.
There are different types of motors, tanks, booms and other options to choose from depending on what you need.
In this buyer's guide, I'm going to cover everything you should consider when it comes to choosing from the models of ATV sprayers available.
What is an ATV Sprayer?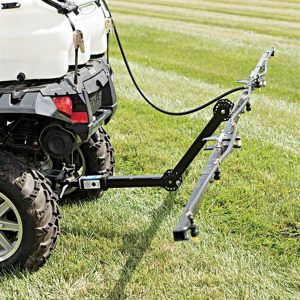 An advanced version of pesticide spraying units, ATV sprayers help you cover more area in less time because there is no need to walk along the perimeter of the field or yard to spray chemicals or water. This type of sprayer is easily mounted on the back of an ATV or towed behind a field vehicle like a tractor. Tow models even come with a built-in trailer so they can be pulled with an ATV or lawnmower.
Essentially an ATV sprayer is made up of a tank, flow control, pump, and nozzle to spray the product. Some models also come with a wand with a good length of hose so you can spot spray without having to move the vehicle much. ATV sprayers are available in a variety of models that suit different applications and requirements.
So let's look at some of the things you should consider when buying considerations one of these sprayers.
The Size of Your ATV
To get started, you need to know the size of your ATV and how you want to mount the sprayer. You can choose from small tow-behind models or sprayers that mount on the back of the vehicles.
The Frequency of Use
Naturally, if you're spraying on a weekly basis, you'll need a stronger ATV sprayer than if just you use it once a year. So keep the frequency of usage in mind while you're deciding what type of sprayer to get.
Chemical and Weed Type
The weed species you're going to be spraying will help decide what pressure your nozzle and pump will require. Knowing what chemicals you are using also helps decide the sprayer specifications. Some chemical products are more likely to cause corrosion and will need sprayers that are durable or corrosion resistant.
Spraying Area
Boom sprayers allow for more targeted product application and are great for flat terrain spraying. They are ideal when you want the boom to be at the same height everywhere and are perfect for providing even coverage.
That said, boomless nozzles work when the terrain is not even. They are perfect when you're working on rough and rocky surfaces as they let you reach areas that you can't cover (or reach) with a fixed boom.
Price
The more you spend on an ATV sprayer, the better quality you get. (Like everything else.) Prices of these units vary greatly but more expensive ones are generally more durable.
The Commonly Available ATV Sprayer Models and Styles
ATV Boom Sprayer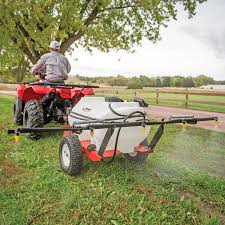 This type of ATV sprayer comes with tubes extending from the vehicle to expand their spraying reach. This type of sprayer is ideal for covering large open areas with the fewest amount of passes. As they are intended to spray more, you'll find that boom sprayers have more powerful pumps and bigger tanks. Some of these models have a great setup with all the controls within the driver's reach.
ATV boom sprayers also come with a wand in case you want to do some spot spraying. A bigger ATV is recommended for a boom system. These sprayers work well for a side by side type or UTV due to their heavier load. So if you're wanting to go with a boom sprayer, you'll need a bigger machine to handle a boom sprayer.
A boom sprayer comes in several options.
Poly boom – This type of boom is durable and comes with breakaway boom options.
Steel boom – This is the most popular option and is made out of steel. This eliminates the chance of breaking spray tips off the nozzle attachment. Breakaway booms can easily swing back into the position after they hit an obstacle.
Versatile boom – This boom is ideal for small areas where you want variable spray patterns and good spraying performance. The boom comes with shutoff valves that connect to the nozzles to allow different spraying patterns.
You can check the lowest price for these models on Amazon here.
ATV Broadcast Sprayer
An ATV broadcast sprayer is an ATV sprayer that sprays the liquid into the air rather than directly onto the surface. This type of spraying offers several benefits. In spraying it into the air, it allows even and thorough dispersion onto the surfaces. This is really helpful when you are using the ATV sprayer for pesticides as the pesticide will get evenly dispersed as it falls back to the ground – ensuring there is no chance of missing any spots.
There are a few hybrid models available that you can check out here.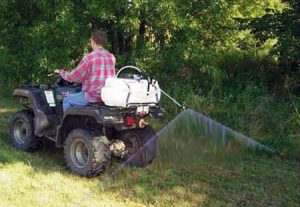 ATV Boomless Sprayer
A boomless sprayer is a multi-purpose piece of equipment has no problem dispensing pesticides or any insecticides. This type of sprayer does not extend from the ATV's side and can have one or multiple nozzles. Most models come with angled sprayers to let you spray beyond the width of the ATV and in different directions.
ATV boomless sprayers are ideal for average or light-use users because they are smaller and more affordable than boom sprayers. They come with a lot of different options to choose from. Here are some things to consider with a boomless sprayer.
If you'd like to see the models available for ATV boomless sprayers, click here.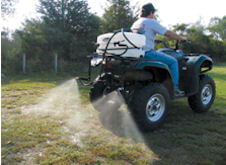 Tank Batteries
Most ATV sprayer tanks work on a 12V battery. See that you buy sprayers with high-quality batteries so that there is no risk of running out of power while you're spraying. (Also be aware that cold weather storage can kill a battery's performance.)
Tank Size
ATV boomless sprayers are used to cover a wide area. And it's the tank capacity of the sprayer tank that determines just how much area you can cover. So the size of the tank and weight your ATV can handle will the trade off you have to consider when choosing between models. Avoid using a large tank for smaller spaces like a lawn because you can't store chemicals for very long.
Nozzle Durability
Your ATV sprayer should come with a really durable valve as it's one of the most important parts of the sprayer. As the valve helps regulate the flow of product, you should need nozzles and valves made out of brass that won't react with the chemicals you want to spray.
Conclusion
ATV sprayers are excellent products but you really have to be clear about how you're going to use it. Make sure that you don't compromise on the features you need to get the job done by trying to spend less. There are numerous options available in almost every price range.
Once you get your ATV sprayer, it will take the hassle out of spraying your liquid or chemicals.
So whether you're spraying pesticides, or cultivating your food plot to bring the animals in, no more carrying around a heavy container full of liquid for you!
So check out the available options here so you can save your back and make your life easier!
If you want something a little more "model specific" for a review, you can check out our Fimco ATV sprayer review here.