ATV Sprayer Review – UPDATED for 2021 – A Complete Buyer's Guide
So you've come to the realization that having an ATV sprayer (and reading reviews on ATV sprayers) would really make your job easier, have you?
If so, then… you're right!
But there's a lot to cover if you're looking for an affordable and convenient way to spray water and pesticides with your ATV sprayer.
An ATV sprayer is perfect for hard-to-reach areas like along fence lines, in potholes or other little nooks and crannies.
(And an ATV sprayer is so much easier to use than trying to lug around a backpack sprayer.)
While there are several options in the market to choose from, finding the right sprayer can be tricky. After all, you want to make sure you're getting something that's reliable and efficient.
But there's a lot to consider when you're buying a new ATV sprayer.
There are different types of motors, tanks, booms and other options to choose from depending on what you need.
In this buyer's guide, I'm going to cover everything you should consider when it comes to choosing from the models of ATV sprayers available.
What is an ATV Sprayer?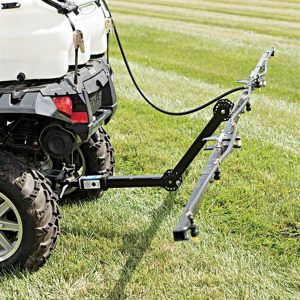 An advanced version of pesticide spraying units, ATV sprayers help you cover more area in less time because there is no need to walk along the perimeter of the field or yard to spray chemicals or water. This type of sprayer is easily mounted on the back of an ATV or towed behind a field vehicle like a tractor. Tow models even come with a built-in trailer so they can be pulled with an ATV or lawnmower.
Essentially an ATV sprayer is made up of a tank, flow control, pump, and nozzle to spray the product. Some models also come with a wand with a good length of hose so you can spot spray without having to move the vehicle much. ATV sprayers are available in a variety of models that suit different applications and requirements.
So let's look at some of the things you should consider when buying considerations one of these sprayers.
The Size of Your ATV
To get started, you need to know the size of your ATV and how you want to mount the sprayer. You can choose from small tow-behind models or sprayers that mount on the back of the vehicles.
The Frequency of Use
Naturally, if you're spraying on a weekly basis, you'll need a stronger ATV sprayer than if just you use it once a year. So keep the frequency of usage in mind while you're deciding what type of sprayer to get.
Chemical and Weed Type
The weed species you're going to be spraying will help decide what pressure your nozzle and pump will require. Knowing what chemicals you are using also helps decide the sprayer specifications. Some chemical products are more likely to cause corrosion and will need sprayers that are durable or corrosion resistant.
Spraying Area
Boom sprayers allow for more targeted product application and are great for flat terrain spraying. They are ideal when you want the boom to be at the same height everywhere and are perfect for providing even coverage.
That said, boomless nozzles work when the terrain is not even. They are perfect when you're working on rough and rocky surfaces as they let you reach areas that you can't cover (or reach) with a fixed boom.
Price
The more you spend on an ATV sprayer, the better quality you get. (Like everything else.) Prices of these units vary greatly but more expensive ones are generally more durable.
The Commonly Available ATV Sprayer Models and Styles
ATV Boom Sprayer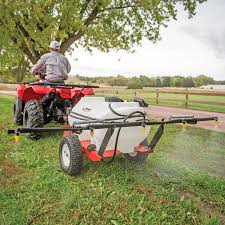 This type of ATV sprayer comes with tubes extending from the vehicle to expand their spraying reach. This type of sprayer is ideal for covering large open areas with the fewest amount of passes. As they are intended to spray more, you'll find that boom sprayers have more powerful pumps and bigger tanks. Some of these models have a great setup with all the controls within the driver's reach.
ATV boom sprayers also come with a wand in case you want to do some spot spraying. A bigger ATV is recommended for a boom system. These sprayers work well for a side by side type or UTV due to their heavier load. So if you're wanting to go with a boom sprayer, you'll need a bigger machine to handle a boom sprayer.
A boom sprayer comes in several options.
Poly boom – This type of boom is durable and comes with breakaway boom options.
Steel boom – This is the most popular option and is made out of steel. This eliminates the chance of breaking spray tips off the nozzle attachment. Breakaway booms can easily swing back into the position after they hit an obstacle.
Versatile boom – This boom is ideal for small areas where you want variable spray patterns and good spraying performance. The boom comes with shutoff valves that connect to the nozzles to allow different spraying patterns.
You can check the lowest price for these models on Amazon here.
ATV Broadcast Sprayer
An ATV broadcast sprayer is an ATV sprayer that sprays the liquid into the air rather than directly onto the surface. This type of spraying offers several benefits. In spraying it into the air, it allows even and thorough dispersion onto the surfaces. This is really helpful when you are using the ATV sprayer for pesticides as the pesticide will get evenly dispersed as it falls back to the ground – ensuring there is no chance of missing any spots.
There are a few hybrid models available that you can check out here.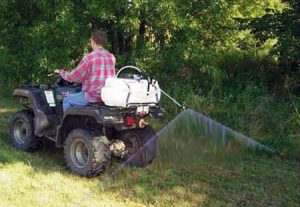 ATV Boomless Sprayer
A boomless sprayer is a multi-purpose piece of equipment has no problem dispensing pesticides or any insecticides. This type of sprayer does not extend from the ATV's side and can have one or multiple nozzles. Most models come with angled sprayers to let you spray beyond the width of the ATV and in different directions.
ATV boomless sprayers are ideal for average or light-use users because they are smaller and more affordable than boom sprayers. They come with a lot of different options to choose from. Here are some things to consider with a boomless sprayer.
If you'd like to see the models available for ATV boomless sprayers, click here.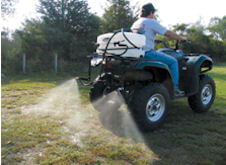 Tank Batteries
Most ATV sprayer tanks work on a 12V battery. See that you buy sprayers with high-quality batteries so that there is no risk of running out of power while you're spraying. (Also be aware that cold weather storage can kill a battery's performance.)
Tank Size
ATV boomless sprayers are used to cover a wide area. And it's the tank capacity of the sprayer tank that determines just how much area you can cover. So the size of the tank and weight your ATV can handle will the trade off you have to consider when choosing between models. Avoid using a large tank for smaller spaces like a lawn because you can't store chemicals for very long.
Nozzle Durability
Your ATV sprayer should come with a really durable valve as it's one of the most important parts of the sprayer. As the valve helps regulate the flow of product, you should need nozzles and valves made out of brass that won't react with the chemicals you want to spray.
Conclusion
ATV sprayers are excellent products but you really have to be clear about how you're going to use it. Make sure that you don't compromise on the features you need to get the job done by trying to spend less. There are numerous options available in almost every price range.
Once you get your ATV sprayer, it will take the hassle out of spraying your liquid or chemicals.
So whether you're spraying pesticides, or cultivating your food plot to bring the animals in, no more carrying around a heavy container full of liquid for you!
So check out the available options here so you can save your back and make your life easier!
If you want something a little more "model specific" for a review, you can check out our Fimco ATV sprayer review here.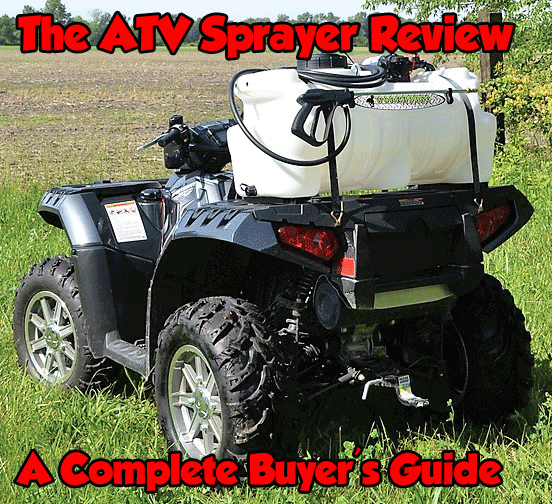 There are many other things people looked for when searching for an atv sprayer review such as the following:
Sprayer Sepecialties atv Sprayer
Per the company's website, the ATV Sprayer is "designed for valuable spray on wasted land and on many other places where a hand-held or tractor mounted system cannot be used." The ATV Sprayer is also two times as fast as a manual sprayer. Other features include: accuracy of 1% plus tolerances, plug and play connection with factory hydraulic and plug and play wiring harnesses, side tension release for quick removal of tanks, remote shutdown capability which can be locked to prevent movement while spraying. Furthermore, the unit also provides consistent pressure with its user-friendly pump control lever regulator override switch that allows continuous pumping under load without user intervention. It has been proven highly successful in areas such as dairies
Ironton ATV Spot Sprayer Review
Ironton ATV Spot Sprayers come with everything you need to lay down an even layer of liquid on the ground. It includes a high pressure 8ft. hose, 18″ flat fan nozzle, 9hp Honda engine, and rear tow bar so you can pull it around corners or up hills.
It has 2 quick connect nozzles for chemical applications like herbicides, fungicides and insecticides so you don't have to stop what you're doing just because there's another task that needs done. Plus, this machine is conveniently powered by gas or diesel fuel which allows it to work longer than electrical driven units out there on the market today without running low on power.
Rear-mounted boom sprayer – The Demco ATV Sprayer
A rear mounted boom sprayer is a utility class spraying device, which typically ships with a 4" or 5" fan intake for recirculating fluids from the tank. Rear mounted boom sprayers have an adjustable nozzles to allow the user to control the amount of product being discharged from the system, and a hose that has a gun end on it. The nozzles are usually attached at right angle provides you with more options in terms of how you want to direct your fan pattern. All rear mounted boom sprayers come equipped with a six inch compressed air hose for power-assist applications. Liquids enter through tank, goes up through filter and travels downward over agitator arm where material is mixed.
Master Manufacturing 15 Gallon Atv Broadcast & Spot Sprayer-Best 5 gallon ATV spot sprayer
This is an excellent product. Many people use this to spray products on the lawns of very large property owners, and there are no strong overspray patterns in my district. This company has engineered this spayer for professional durability, which is why it's made with stainless steel materials. The clean water tank allows me to provide a cost-effective service that makes my clients happy.
What is the Chapin 97300 ATV Spot Sprayer?
The Chapin 97300 is a greenhouse and garden sprayer with carrying handle that can water trees, shrubs, flower beds and any other soil-less landscaping needs.
The Chapin 97300 ATV Spot Sprayer Truck has a 3000 gallon tank which provides up to eight hours of continuous spraying. This truck sprayer features 20′ stainless steel hose with washer on the end of wand for dirtier jobs. A 50′ extension included makes it possible to reach high walls for larger commercial projects or backyards. It includes a 10″ diameter fan tip, solid axle rear roller casters, folding boom arm and an electrical starter kit required for operating engine driven pumps from remote controls from operators cab.
What do you use an ATV sprayer for?
The primary use for an ATV sprayer is for on-field spraying. This can be done with liquid fertilizers applied to corn, soybeans, cotton and other row crops.
The liquid fertilizers are either liquid organic fertilizer foams or liquid organic fertilizer slurries. The most common liquid fertilizers are urea, MAP (Magnesium Ammonium Phosphate), nitrogen phosphate solubilized with urea (or ammonium), potassiumsulfate and soluble potash salts–all these products typically known as NPK products.
Are North Star sprayers any good?
First and foremost, North Star is the best trailer mounted sprayer on the market. Period. There's also very few complaints against them, if any! It's possible you're just not inclined to research spraying equipment before you buy it and know what type of usage is right for you. If so, don't hesitate to reach out to their customer service team with your questions! They'll be happy to help in any way they can.
How do ATV sprayers work?
ATV sprayers are designed to attach to an ATV, and can carry up to 300 gallons of liquid.
The pump seals off the flow through the hoses, which means that it can be used without an engine running. Motioning with the steering wheel allows the driver to choose where spraying will take place over a wide agricultural field. The pump is forced by movement through its drive shaft. This force is transmitted via hydraulic fluid pressure built up by turning the pumps power head until release valves allow the fluid pressure to operate pistons inside cylinders connected to linkage rods attached on either side of a T handlebar extension for manual operation, or directly connected in turn through levers on final drive chains connected at each end for automatic operation.
What is an ATV sprayer?
An ATV sprayer is a vehicle that has been modified for the application of pesticides and herbicides. An ATV sprayer is easy to transport, does not require another tractor or piece of heavy machinery, and can be operated with just one person sitting on the quad for hours on end.
Many farmers find it most efficient to send an individual with an ATV into the most remote areas in order to get rid of weeds and pests before any potential problems can ever arise. This ensures that there will never be a dire need for herbicidal treatments when they might not even make a difference due to oversaturation at this point in time.
How do you use a UTV sprayer?
In order to use a UTV sprayer, first remove the fluids from the tank. A hydraulic tractor or expeller tanker is the best way to do this as it doesn't require an external power source. Connect a garden hose with a lance to fit on your faucet and turn it on max pressure. The water will run down into your oil tank and through your transmission casing where it will slosh around and clean anything inside. Connect a rubber tube from your lance to a bucket so you can wash out all of the dirt under high pressure without getting lubricant everywhere.
How fast should I drive when spraying weeds?
You'll want to drive as fast as you feel comfortable. Some folks like to make spraying their weeds something of a game by driving at top speed. If it's just an occasional job, though, I'm not sure there's any reason to go that fast!
It is important that you have enough spray on the weed so that it stays wet for minutes after being sprayed. The best way to gauge how wet the weed is is by touching it with your hand about 15 seconds after spraying. Touching the weed should leave some dampness on your skin – but not so much that your hand becomes completely soaked in product or covered in residue from previous sprays!
Who makes NorthStar sprayers?
Northern Tool & Equipment is a large retail company that sells over 50,000 products in 7 different brands. The NorthStar Group includes two of these brands – Northern Tool and Equipment and Power Research.
The NorthStar Group's product categories include farm supplies, pressure washers, air compressors, water pumps, well drilling tools, plumbing supplies plumbing fixtures and office machinery.
How do you hook up ATV sprayer?
The first step is to attach one of the nozzles on the gun, along with a hose. From there, you should have 2 options.
You either attach the nozzle directly onto the end of your hose, or you can go through 2 steps by adding a female quick-connector adapter between them. The reason that some choose to take this extra step is that an additional adapter gives more flexibility in hooking up other devices for spraying purposes (such as fertilizers).
How many gallons does it take to spray an acre?
It would take an average of 450 gallons.
Strigs for acres is approximately 350 per acre, and with a superficial leaf coverage this estimate doubles to 700 strigs per acre, which will require at least 2000 gallons. After one application the volume may be reduced by as much as 50%. At that point another 4000-5000 gallon volume can be added; however, weather conditions can affect total spray needed by up to 20% of the initial amount. So depending on climate and vegetation type, it most likely will take an average of 600 gallons or more to spray an acre between twice between full applications (but again these numbers depend on variables such as rainfall and season).
How do Boomless spray nozzles work?
Boomless spray nozzles use a process known as fluid dynamic focusing to ensure that the fan pressure is evenly distributed and for this reason, it decreases overspray and improve coverage.
Braun (not-just-knives) was one of the first companies to engineer a boomless system into their sprinkler systems, but now providers like Graco are producing similar or perhaps even more effective products with better performance. Industry standard now seems to be 16% – 20% horizontal shift compared to 25%.
How many acres will 25 gallons spray?
25 gallons of herbicide can spray out up to 30-40 acres per gallon.
If we assume the farmer is spraying apple trees for example, it takes roughly 60 ounces or 2.5 liters of water to plant an apple tree. So with a couple of calculations, 2 gallons (1 quart) will cover about 4 acres and 5 gallons (2 quarts) will cover about 10 acres; however, if you're using a weaker solution that is only half the concentration then you'll need twice as much water in order to get equal coverage because there won't be as many molecules bonding together after they've been sprayed and dried.