The Boss ATV Plow Review – Don't Overlook This
In this post, we're going to give a quick review of the Boss ATV Plow.
And like it's name suggests, these plows are quite literally "THE BOSS" of the industry.
They are extremely heavy duty. They're designed for professionals. And their hydraulic adjustment system and its ease of use sets the Boss ATV plow apart from the competition.
So if you're a professional snow removal person, these are for you.
Of course, if you're someone who always wants the best you can look too.
But even with that said, if you live in a place that gets a lot of snow it could still be worth it.
After all, if you're moving tonnes of snow each and every year, anything that makes it quicker or easier is probably worth a look.
Because the sooner you're done your work, the sooner you can run back inside where it's warm 🙂
But if you're just looking for an inexpensive plow to move snow, get this one.
So let's look into the different models that Boss offers when it comes to their snowplows.
The VXT – The Top Dog Boss ATV Plow
This is Boss' unique Vee style blade.
And it's just like it sounds.
A big, bad Vee blade for the front of your ATV or UTV.
It's a great design, as the Vee can cut right through the snow at the Vee point. Along those lines, the Vee style is your best option for slicing through hard-packed snow and ice.
It works way better than a straight blade when it comes to hard-packed snow or ice.
And the Vee design creates less stress on the vehicle pushing the snow as there is less surface area pushing on the snow at one point.
Make no mistake about it: this is a heavy duty plow.
The thing is built to last and is extremely heavy. It weighs in at 245 pounds!
I know what you're thinking at this point. That clamping this plow to the front of your ATV or UTV will make everything "nose heavy."
And you're absolutely right. It will.
In fact, you'll probably want to counterbalance the load. You could use some sand bags (or maybe a salt spreader?) on the back of your machine to help offset this weight.
Because without counterbalancing it, the nose of your ATV/UTV WILL dive down as you use it.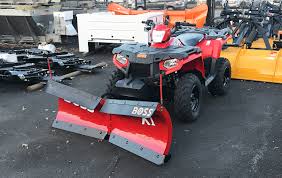 The Hydraulic Controls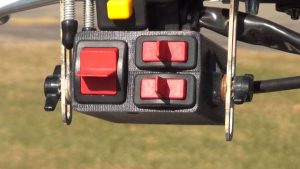 In addition to it's 14 gauge steel construction, this plow also features a hydraulic heavy duty adjustment system.
And this hydraulic system is a huge competitive advantage over the competition.
It makes adjusting and maneuvering the plow incredibly easy, but it also adds to the weight.
And at 66″ wide, you can use all the maneuverability you can get 🙂
But, it also means that you don't need chains, pulleys or a winch to use the plow.
And the hydraulic controls mount right onto the handlebars so it makes it very easy to operate.
This makes adjustment and getting into hard to reach areas a dream.
But if you've already got a winch on your ATV or UTV, adding a hydraulic system might not be a huge advantage.
That said, if you have to buy a winch in order to use a plow, this might factor into your decision. (Because, of course, having to buy a winch would add to the total cost of getting set up to plow.)
So considering the cost, ease of use, and overall weight of the hydraulic system verses a winch adjusted straight blade is something to think about.
When it comes to bolting this behemoth to your ATV, it features a quick attach system that bolts on.
And once you've mounted it on your quad, the idea is that you'll leave it on. So you aren't taking it on and off.
But Boss claims that the quick attach system is designed so that it doesn't dramatically reduce the amount of clearance your ATV has.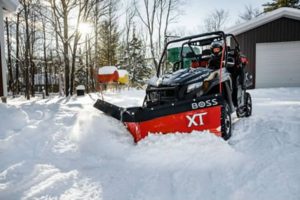 The Boss ATV/UTV Snowplow Poly Straight Blade
Boss also has a straight blade option as well.
And this comes in two different sizes: 48″ wide and 60″ wide.
Both of them are made of poly and this is their lightweight alternative to the beefy VXT Vee blade.
Each of them are a little lighter than the Vee blade. They are 170 & 190 pounds, respectively.
So they aren't super light, but they're still pretty heavy due to the hydraulic lift and adjust system.
And while the hydraulic system adds weight, it's really nice to use.
There's no lack of power with the hydraulic system.
So you're able to adjust the blade to almost unimaginable positions by just pressing the controls.
This is a huge advantage over to having to manually adjust a pin on your snowplow to adjust the plow angle.
If you don't do a lot of plowing, maybe the manual adjustment isn't a big deal.
But if you do this professionally or if you have a lot of neighborhood driveways to plow, every bit of time you can save just might be worth it.
This hydraulic system is really what separates the Boss plow from other competitors. Like the Cycle Country ATV snow plow (which is also a poly ATV snowplow) we reviewed here.
If it wasn't for the hydraulic adjustment system, the poly snow plows would be pretty similar.
But these hydraulics do add to the cost.
And this is why the Boss ATV snowplows are almost exclusively used by professionals.
Your average homeowner who is just plowing one or two driveways can't usually justify the much higher price.