The Cycle Country ATV Plow Review
Ok so here goes – the cycle country atv plow review.
You've heard of cycle country plows before, right?
If you haven't I'd be surprised.
They've been slingin' plow for the last 30+ years!
In fact, they were the originators of the ATV and UTV plow. And they've been keepin' on keepin' on in terms of coming up with "new and improved" snowplows.  and they continue to Provide new and advanced snowplows for this day.
So if you're looking for a snowplow, you might want to look into a Cycle Nation plow.
30 Years of Cycle Country Innovation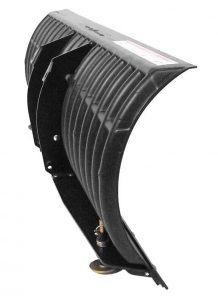 While some people would get tired of doing the same thing for over 30 years.
But that's not Cycle Country.
They live and breathe snowplows and snowplow related accessories.
And for as long as they've been in business, they've been committed to bring the very best ATV snowplows to market.
A couple of years back Cycle Country was bought out by Kolpin.
You know… Kolpin.
The ATV accessory juggernaut.
Ya. That Kolpin.
But the combination of  Cycle Country's technical "know how" and Kolpin's deep pockets made for ATV and UTV parts bliss.
Needless to say, the market (IE us consumers) have benefited greatly from this union.
Primarily, because it allowed Cycle Country the ability to further lose itself in the technical details and engineering of their product line.
With all of this having taken place, Cycle Country has a few different types of ATV/UTV snowplows that it offers.
The Cycle Country ATV Plow Family
Ok. Cycle Country is known for the poly blades it makes.
These blades were what really put Cycle Country on the map. They're incredibly lightweight, which allows for a lot less wear and tear on the ATV.
And they have wear strips just like regular metal blades. So if you need to replace one, it's no problem. (You can see a replacement one here.)
There are a couple other advantages to it as well:
they're cheaper than their steel counterparts
they can be larger and have a bigger radius blade. This really "rolls the snow" so you can push the snow further and faster. In fact, most metal blades are around 15″ high. But these poly blades are closer to 21″ high.
it's more quiet than metal blades
it's covered by a lifetime warranty
it won't harm plowed surfaces. Unlike metal blades which can scrape the surface under the snow.
Cycle country also has a standard straight blade snowplow. This is made of 12ga steel and is the classic ATV snowplow blade.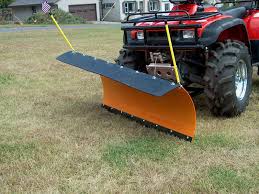 They also offer a "State" steel blade. This blade features a tapered design, similar to what you may have seen on different municipal trucks pushing snow.
The Cycle Country ATV Plow Mounting System
Cycle Country has put a lot of effort into ensuring their plows can mount on virtually any ATV or UTV out there.
That said, there are a few different kinds of mounting systems.
The mid-mount system fits about seventy five percent of all ATV's out there. This is the strongest mounting option as the force generated from plowing is sent directly to the frame of the ATV.
The forward-mount system. This system bolts is made up of a frame mount and push tube. Because of this, it fits over ninety percent of the ATV's in the field.
The front-mount system. This system gives the highest lift height and clearance of all mounting options. These systems need to be checked for fitment on every ATV and UTV before assuming they'll work.
Aside from that, depending on your budget you can have either a manual lift option or a winch lift option.
With the manual lift option, you'll be grabbing that handle and reefing on it to raise and lower the snowplow all day long.
Sooo, with that… I prefer the winch option.
If you've got the budget (or a winch already on your ATV!) I highly recommend you get the winch system.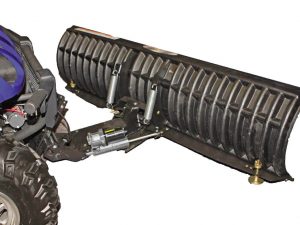 Final Thoughts on The Cycle Country ATV Plow
Well, having been in business for so long, it's no wonder this Wisconsin-based company has earned a reputation.
And a nickname.
The name?
Uncle Plow.
But even with the nickname, they're recognized as one of the industry leaders in the plowing game.
Where so many other competitors are going the metal snowplow route, they're still headed in the opposite direction.
They've got their ribbed design poly snow plow that is not only rugged, but works great.
While you might not have thought of it before, you might want to look into a poly snow plow option.
And it just makes sense as it's so much lighter.
After all, why drag around extra weight and just wear out your ATV if you don't have to?
But if you've gotta have a metal plow, check out our post that reviews different ATV snowplows.
You could also look at the review we've written on the Moose snow plow.