The Snow Plow Shovel – The Ultimate Review
So you may be wondering why on an ATV site we would have a snow plow shovel review page?
And that, my friend, is a GREAT question.
Simply put, if you're using your ATV or UTV to clear snow there will always be a few little areas that you can't get to.
Well, either can't get to, or it's not worth you trying to re-position and take another swipe at.
Or maybe you're still trying to decide on which ATV snowplow to get?
If that's the case, be sure to check out our guide here.
Even more serious than that, a lot of people (over 12,000 per year in the USA alone) injure themselves from shoveling snow.
Some end up in the hospital or have heart attacks from what can seem like a harmless task.
So all joking aside, if you're moving snow manually it's probably a good idea to look into how you can do it with as little strain as possible.
With that in mind, we've come up with a few different types of snow plow shovel products that we think might be of value to you.
#1 – The Snow Shovel With Wheels
Hey, maybe you're still dreaming about the day when you can afford to get an ATV and snowplow.
And that's cool.
But in the meantime, you've still gotta clear that snow.
So one of the things you can do to save your back is to get a snow shovel with wheels.
It looks like a dolly that has a snowblade attached to the front of it. And that's essentially what it is.
Just like a dolly – it can really help save your back as you're trying to move heavy loads of snow around.
It can help make quick work of driveways without you having to lift the snow by hand.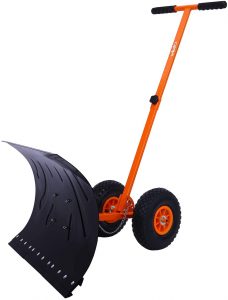 You can check this particular snow shovel with wheels here at Amazon.
#2 – The Classic Snowplow Snow Pusher
If you're wanting more of a classic style snow shovel, this is what you need.
This is far superior to just a regular straight blade snow shovel.
This allows you to push the snow out of the way instead of having to pick it up and throw it as you would if you were using a shovel.
So – you want a snowplow snow pusher. NOT a snowshovel.
And the only snowplow snow pusher I'd recommend is the one with the additional handle on it like this one: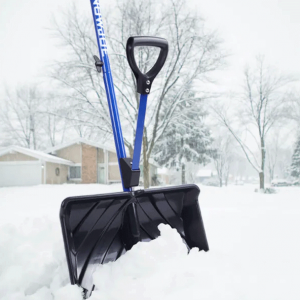 And I recommend this one with the additional handle as it takes a lot of strain off your back when you have to lift some snow.
Even though this snowplow snow pusher works great to push most of the snow, there will still be SOME lifting involved.
With that being the case, you need to make sure you're using something that will lessen the strain on your body.
You can get the snowplow snow pusher here from Amazon. It was the cheapest price around when I checked last.
Don't waste your time getting a suncoast snow shovel or a true temper snow shovel.
Save your back and get the one above that has the additional handle. It will make a big difference.
#3 – Snow Shovels With Auger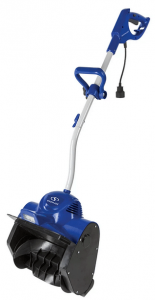 Just to set the record straight – any sort of snow shovel with auger is essentially a snowblower.
And they are essentially an electric snow shovel.
It's like having a mini snowblower on the end of a shovel.
And the one below is the best cordless electric snow shovel around.
It's inexpensive, but can throw snow up to 20 feet!
And with it being electric, there's no maintenance involved.
It's quite literally a plug & play solution.
One nice thing that I like about these are that they're made of a high-impact poly.
This means I can run it over my weather proofed deck without having to worry that it will cut through the waterproof membrane like a metal one might.
You can check out the really inexpensive corded option here. Or you can check out the cordless version here.
Either way, these are great options for an electric snow shovel. Or as some call it snow shovels with auger. But they probably only call it that if they can't remember the name 🙂
#4 – The Snow Scoop Shovel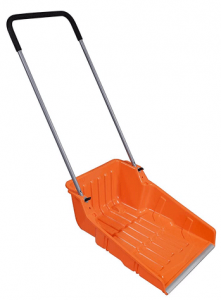 Essentially, you'd look into getting one of these if you ignored my advice to get a snowplow snow pusher.
This is basically a snowplow snow pusher but with a HUGE  scoop. (Hence the name snow scoop shovel.)
BUT, it doesn't have the handy little handle on it to save your back from breaking.
Even with that, because of the large scoop area on the snow scoop shovel you can move huge amounts of snow.
Assuming, of course, you're strong enough to push huge amounts of snow at once.
#5 – Heated Snow Shovels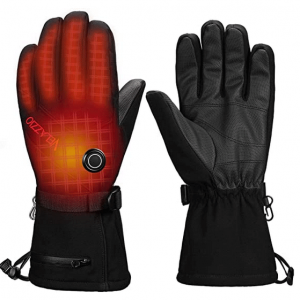 What? Heated snow shovels?
Can it be true? Or is it only the stuff of dreams?
Sorry, but at this point heated snow shovels look to still be a ways away.
At this point there is nothing in production.
But! That doesn't mean that your hands have to freeze.
Why go to the trouble of trying to get a heated snow shovel, when you could just get heated gloves?
Like these beauties here! They'd make a great gift.
#6 – The Snow Plow Snow Shovel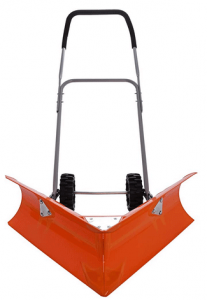 Ok, if you're needing to move some hard-packed snow or ice from your driveway, you should look into getting a snow plow snow shovel that is shaped like a v-plow.
And to top it off, this bad boy's got wheels.
This will make your life soo much easier.
See, the problem with straight blade plows or shovels it that they can't carve through hard packed snow or ice very well.
And that's exactly where a snow plow snow shovel shines with its v plow design.
It's made to carve right through it.
I'd suggest checking it out here on Amazon for the lowest price.