The ATV Snow Plow Review Page
Hello folks, today we are going to look at and review a few of the different types of ATV snow plow systems that are available.
TYPES OF ATV SNOW PLOW SYSTEMS
KOLPIN SWITCHABLE-17-0000 ATV SNOWPLOW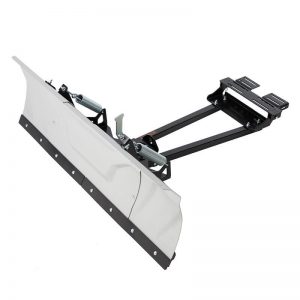 The Kolpin Switchblade is a Universal  ATV snowplow system that has everything you need to start plowing today in one box. Stamped steel blade technology allows the blade to adjust to either 48 inches or 60 inches wide. And you can raise or lower it with a winch.
(The winch isn't included with this system.)
The frame work is made of rigid tube steel that has strategically placed reinforcements. There are five different positions that you can angle the blade using a quick pin release system.
This makes it super quick to adjust the blade angle and the with Universal underbody mount the whole thing assembles in under one hour.
The whole assembly comes in a box that easily fits in the back of your vehicle for easy transportation.
You can check out more details on this system here.
*Please note that the Kolpin Switchblade 17-0000 is designed for ATV's. Not UTV's. *

KFI SNO-DEVIL 105500 ATV SNOW PLOW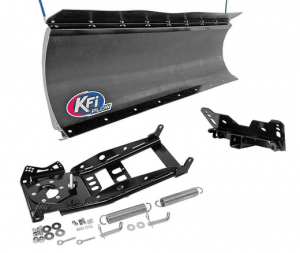 The snow devil by KFI is another Universal ATV snowplow system.
This particular ATV snow plow is 48 inches wide and is designed to combine all the best features of an atv snow plow into one simple, complete package.
And it's a good thing too, as this system will work with about 90% of ATVs on the market.
All of the KFI ATV snowplow systems (including the sno-devil) are designed as lower mount systems.
By designing them this way, all of the force that's generated from plowing is transferred directly back to your ATV's frame.
All KFI parts are powder-coated. This means that it will hold up to abuse much better than just wet paint.
A powdercoat finish is the toughest, most durable finish you can get for a plow.
One other nice thing of note is that the KFI is a hybrid mount system.
This means that it mounts to the frame just back of the wheels instead of on the front or centre of the machine.
And it's this specific mounting system that allows it to work with 90% of the ATVs on the market.
You can see more information on the KFI Sno-Devil here.
Warn 78100 PRO VANTAGE ATV SNOW PLOW BASE/PUSH TUBE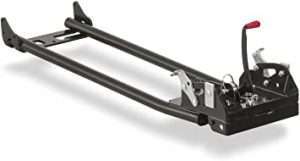 The warn pro vantage  ATV and snowplow systems have been planned from the ground up to be the most adaptable plow systems in the market.
And if you've done any looking around, when it comes to plows or ATV accessories the name Warn comes up a lot.
This particular base is engineered to perform, is heavy duty and is very easy to connect.
If you buy this base, you'll still need to buy the Warn snowplow as well, before you can go plowing.
But Warn is the gold standard when it comes to plows.
It's a name know for it's innovative approach to ATV accessories and offers extremely durable products.
Click here to see where you can buy the Warn plow base.
SWISHER-2645R ATV SNOWPLOW
The Swisher Universal super duty ATV snowplow blade makes quick work of snow, dirt and gravel.
With a 50″ wide blade it cuts a wide swath.
And the 1/8″ thick steel construction gives it a lot of power to move snow.
This unique plow has a lift height between 18 to 24 inches for special clearance so you can avoid obstacles.
But this can be limited, depending on the size of the ATV and its tire size.
The plow angle can be adjusted with ease with its unique dual locking angle position.
Once set, the plow isn't going to move.
This plow can be used with a manual lift or an ATV winch.
With it's heavy-duty construction and extra supports, this plow is great for all sorts of heavy, tough jobs.
It's not just limited to moving snow.
Dirt, sand, rocks.
They're all fair game with this plow.
The blade's cutting edge is reversible and replaceable for long life and comes with plow saving skids.
This plow blade requires the universal mounting kit as well.
But once it's installed, the plow can be attached and removed in seconds without any tools.
Click here for more information on the Swisher plow blade. 
BERCOMAC VERSATILE PLUS OFF ROAD 4 WHEELER SNOWBLOWER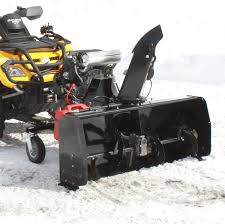 The Bercomac Versatile Plus Snowblower is available either with or without an engine.
Typical engine choices are either a a 22 or 24 horsepower Honda engine.
This combination makes it – without a doubt – one of the most powerful snowplows available for ATVs and UTVs on the market anywhere.
No matter what quantity of snow needs to be removed, this is the machine that will do it.
It's built tough with its double-layered based (along with other reinforcements).
This is pretty nice to have as it will help limit the amount of damage done if you happen to run into anything as you plow.
It also has an electromagnetic clutch to start the snowblower instantly.
A unique type B belt system ensures durability and a long lifespan.
Its belt tensioner allows you to change the belt in less than 5 minutes.
For better maneuverability when the ground hasn't frozen the weight of the snowblower can be shifted back onto the vehicle's suspension.
This tries to help from the quad's wheels sinking into the ground.
A heavy-duty gearbox makes sure this snowblower will perform in any type of snow removal, and it requires no maintenance.
So if you want to throw snow rather than push it, you can check out the Bercomac here.
If you're not sure what's involved with getting an ATV snowblower, you can read this article here.
TOP 5 FOUR WHEELER ATV SNOW PLOW ACCESSORIES
I'm going to recommend five things that are going to make your life much easier.
ATV Plow Markers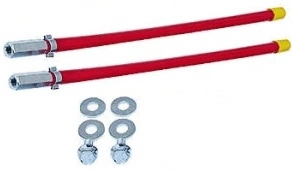 One of the challenges you have in a UTV over an ATV when you're plowing is that you sit down on the machine and you can't see over the hood perfectly.
This means you can't see the snowplow all the time.
And if you're trying to plow around obstacles, it can be really tough to see the ends of your plow.
But! You can get these 2 foot tall markers that stick up on the sides of your plow.
They've even got a little red tip to them you can see them in your headlights at night.
This let's you see exactly where the edge of your plow is.
It will save you from hitting curbs and running over all sorts of things when you're plowing.
And if you do hit something with them? Well, they're pretty flexible and durable. So it shouldn't be a problem.
They can easily be mounted onto any plow. Most are a universal fit, but if not, with a little drilling or small modification they should fit up in no time.
You can get a pair pretty inexpensively here.
ATV Snowplow Wings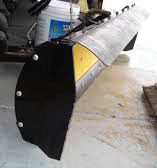 This is something I really fell in love with.
They are little wings that just bolt onto each end of the ATV snowplow.
Simple, right?
But it makes the job a lot easier.
Let's say you're clearing a long section of your driveway.
You and I both know that at some point, if the amount of snow gets big enough, it's going to slide off one side of the plow.
And this leaves a big pile of snow you've got to go back and remove.
Sure, you could just do smaller passes and move less snow in one go.
But what would be the fun in that?
After all, if you get a pair of these, you can just keep pushin'.
Regardless of your plowing style, if you're plowing straight a little bit of snow always falls off even if you overlap your lanes.
But if you put these little wings on both sides you can avoid this problem.
ATV Snowplow Rope
Next on the list is the plow rope for the ATV snow plow.
So this is just a plow lift rope and it's eight-ten foot long.
It's made out of synthetic material and you use it on your winch to lift your plow up and down.
You just replace your current 50-foot long winch rope with this short 8-foot one that you just use in winter.
With all the up and down use of the winch, it's inevitable that you're going to wear out your winch rope.
So rather than wrecking your expensive 50-foot long rope, you can replace it with the cheaper, shorter 8 foot rope.
It just makes sense to save money like that.
Here's a great inexpensive lead rope that you can use.
UHMW ATV Snow Plow Wear Bar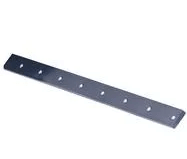 This is a nice little hack.
You can replace your steel wear bar on your plow with a UHMW wear bar.
UHWM is an ultra-high molecular weight plastic and it has a low friction coefficient so it helps it slide on surfaces better.
If you've plowed with a steel bar, you can notice it can leave rust trails on asphalt on sidewalks.
A UHMW one isn't going to leave any of that.
I know you're probably thinking right now that a plastic blade isn't going to stand up to as much abuse as a metal one.
And to a degree, you're right.
But in all honesty, they're really very tough and durable.
Most companies only offer the steel replacement versions, but if you call around to different plastic supply places where you live, they can probably get some UHMW for you.
They can cut it to size and you can drill it to fit the bolt pattern to fit your plow.
Or if you really want a metal replacement wear strip, you can get one here.
ATV Windshield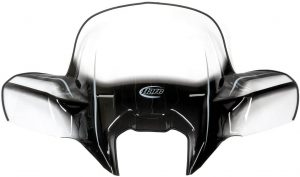 If you're outside in the winter, you're going to get cold.
There really isn't any way around that.
But one of the things you can do to help stop some of the pain is to install a windshield on either your ATV or UTV.
This will at least cut down some of the wind chill that can really make your life miserable.
Oftentimes when you're plowing outside, it's not the cold that really gets you.
It's usually the cold mixed with the cold wind that makes it really cold.
So I recommend getting some sort of windshield like this to help reduce the winter chill as you're plowing.
So there you have it!
Five four accessories that will make your life easier this winter.