Fimco ATV Sprayer – UPDATED 2021 – A Complete Guide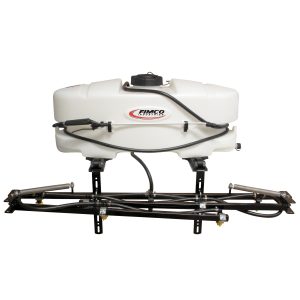 Curious about the Fimco ATV Sprayer?
Wondering if it's up to the job?
After all, pests and weeds are not easy to deal with without a fully-functional ATV sprayer.
And the market is flooded with ATV sprayers from different brands and manufacturers.
With technological advancements, these brands have come up with new, innovative models equipped with all sorts of unique features.
But this can make it difficult to choose the right ATV sprayer for what you wanna do. (Similar to choosing the right ATV winch or ATV snow plow.)
So with that in mind, I want to review one of the best options for ATV sprayers – the Fimco ATV sprayer.
Fimco ATV Sprayer – UPDATED 2020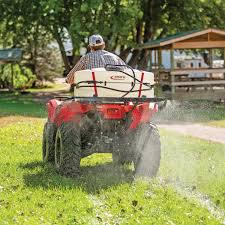 Fimco is the largest manufacturer of lawn and garden sprayers in the United States and offers a complete range of sprayers for different applications from the basic 5-gallon homeowner model to 300-gallon agricultural field sprayer.
The brand has recently introduced a Volt Edge line of Lithium-ion powered UTV and ATV sprayers, the first in the industry.
Fimco also offers the widest range of ATV sprayers with varied features like boomless, quick release booms, lever handguns, nozzle booms and manifolds.
The boomless ATV sprayer is one of the most popular products from Fimco and it stands out from others because of its boomless design, adjustable nozzles and sloped tank.
Here are some of its specs:
12 V diaphragm pump, 4.5 GPM – 60 PSI
28-foot spray coverage boomless nozzles
28 feet vertical throw, 40 feet horizontal throw
15 feet handgun hose
25 gallon polyethylene tank
Some of the features
The 4.5 GMP High Flo high-performance sprayer pump has a built-in fan-cooled motor and chemically resistant diaphragms and valves that enhance the durability to ensure a long life of the unit. This pump is designed to deliver a higher flow rate as compared to any other pump.
The sprayer features a durable, UV resistant 25 gallon blow-molded tank which is the best in class for entry-level sprayers. It also includes UV stabilizers as well as a molded drain port. It also comes with a 5-inch lid to enable easy filling and is completely drainable.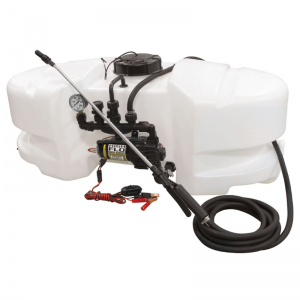 The steel booms of this sprayer are independently fixed and not kept adjustable. It comes with two long-distance nozzles to be able to deliver 28 feet of broadcast liquid coverage.
FIMCO's quick-release mounting system makes it easy to store, remove and change the spraying boom. It facilitates simple installation and removal of the spray boom and easy conversion of a Spot to ATV sprayer.
The handgun features a precision brass tip and ergonomic polymer handle for convenient spraying. It delivers up to 25 feet of vertical spray and 40 feet of horizontal spray. It also has a 15 feet hose that gives you the length you need to reach areas around obstacles and buildings. FIMCO exclusive manifold puts the boom operation and pressure control right at your fingertips for convenient fine-tuning of the spray pattern.
Some of the Pros include:
Universal mounting system
Boomless nozzle pre-installed
High gallon per minute distribution
Easy transition between hose, boom and nozzle
Color-coded spray tips
Adjustable pressure
1-year manufacturer warranty
A few of the Cons are as follows:
Somewhat heavy
Not so affordable
Low pressure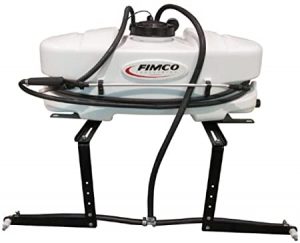 Fimco Boomless Sprayer – What You Should Know?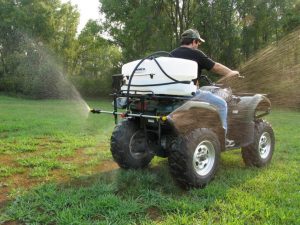 The Fimco 25 gallon boomless ATV sprayer is a powerful model in the entry-level market for basic liquid application jobs. It gives you good value for money and is the affordable step to take before looking for more of a commercial option.
The tank of this sprayer holds 25 gallons of liquid and comes with a universal mount so you won't end up struggling with any tools.
This design ensures you can use it on any terrain and the handgun has an adjustable pattern tip for customizable spraying.
The spray tips are color-coded and designed to be easy to adjust with 15 degree adjustment at one time.
The sprayer's lack of pressure is made up for by its boomless capabilities and the distribution rate of 3.8 gallons per minute.
While most boomless models require the additional purchase and installation of a longer nozzle, the Fimco ATV has the option of a 30 foot nozzle.
In addition to that, the unit features a sloped tank for reduced algae buildup.
The tank not only has UV protection along its walls but also offers corrosion resistance.
Fimco ATV Sprayer Manual
The ATV sprayer from Fimco ships with a tank assembly, tank lid and lanyard, mounting bracket kit and user manual.
The manual contains all the instructions you need to assemble and use the sprayer unit.
Assembly is easy with the step-by-step instructions in the manual. Each step is well-detailed and there are assembly diagrams as well to help you understand it better. (It also tells you what tools you require for each step.)
In addition to the sprayer assembly, the manual lists the parts and steps for the manifold assembly as well.
It goes beyond this, describing how to calibrate and test the sprayer before actually using it.
Of course, it also tells you the best practices to follow as well as what you need to consider and keep in mind when operating the unit.
Beyond that, it has the typical instructions on how to maintain and store the sprayer.
There is a handy little troubleshooting section as well that includes tips for the pump, switch, valve and other parts of the sprayer. This section lists all of the possible problems and their solutions to help you in case you have any problems.
The Fimco ATV Sprayer Manual wraps up by giving you cleaning instructions for each of the parts and then explains the terms of the warranty for the sprayer.
Conclusion
So there's our quick overview of the Fimco ATV sprayer!
Now you know what you can expect from this particular sprayer and what some of its features are.
Overall, I'd have to say that this is probably your best choice when it comes to a boomless ATV sprayer.
Well, this side of going out to get a commercial sprayer.
But for light duty applications I'd say this is the way to go.
They come in a few different sizes.
If you're in Canada (or want it shipped to you from Canada) you can check out the 25 gallon version here.
Or you can check out a competitor here.
If you're in the USA, Fimco seems to only be available some of the time.
You can check and see if it's in stock for the lowest price here on Amazon.
Or, you can check out one of Fimco's competitors here.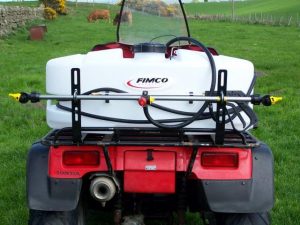 So whether you're using an ATV sprayer to do so light farming or to put in a food plot for hunting, you've got an affordable option!