ATV Winch Reviews – The Ultimate Guide – What Works & What's Junk
When it comes to getting an ATV winch there are so many different options out there.
From different brand names, pulling power and what actually fits your ATV, it can get overwhelming pretty quickly.
Lucky for you, I've come to the rescue with some reviews to make the process a little easier.
After all, there's nothing worse than getting stuck only to find that your ATV winch is no good.
(Or not strong enough for the job at hand!)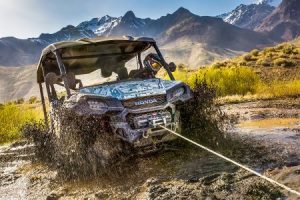 ATV Winch Buying Tip #1
But before we get into this too far, let me give you a bit of a guideline in terms of what you need to look for.
At least in regards to pulling power.
A typical guideline most people follow is to get a winch that can pull about one and a half (1.5) times the weight of your ATV.
Now for most people that falls in the 2,000 – 3,500 pound range.
But that's probably the quickest way to start to narrow your choices down.
And this factors into the price as well.
Obviously, the more a winch can pull the more expensive it's going to be.
And when it comes to expense, what a winch costs is often at the top of everyone's list.
With that in mind, I've tried to split these reviews up into 2 different sections.
The first section (which is what we're doing here) is more of a "higher-end" expensive section.
The second section (see our cheap atv winches review here) is more of a cheap atv winches section.
And by cheap, I don't necessarily mean that they're garbage – just that they cost less.
So let's get into this!
Top Quality ATV Winch Reviews
Now, as I mentioned before, it's not that these winches will do a better job than the others, it's more that they've got the name and reputation of having a quality product.
And with that, these companies are often at the forefront of the industry.
They're known for pushing the envelope to engineer and develop amazing new products that ultimately shape the industry.
The first one on our list is a super ATV winch review.
Super ATV Winch Review – Superwinch Terra 45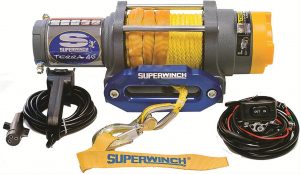 For our review here, we'll be going over the Superwinch Terra 45.
This is their top of the line winch, that features a pulling power of 4500 pounds.
When it comes to a Super ATV winch, there are a few things that set it apart:
Sealed motors. With all the abuse and crazy terrain that ATV's go through it's incredibly important that you get an ATV winch that has a sealed motor. If it isn't sealed, you're going to get water and grime inside your electric motor and it will kill it. But for the Superwinch, it's sealed. It can also hold a load and brake dynamically. At times you might think you're operating a "smart winch."
All steel planetary gears. This is another important thing that sets it apart from competitors, as it's two times the size of the competition. In addition to that, they machine the seats for their bronze bearings, where some cheaper winches try to get away with having a cast fitment. Machining the area for the bearings ensures a perfect fit, whereas a cast fit can be sloppy or not sit quite right due to flaws in the casting process.
Sealed electrical components. Water and electricity don't mix, so it's incredibly important that all electrical parts are properly sealed to ensure no water or moisture comes in contact with them.
This particular ATV winch uses synthetic rope. And has over 55 feet of it!
The Superwinch 1145230 Terra 45 also comes with a hand-held remote and handle-bar mounted controls.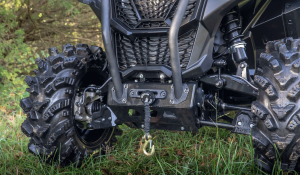 Each and every Super winch is designed to take a beating.
It's built strong, and is made to be very compact so it can fit in small places.
Needless to say, this is pretty important when you're dealing with an ATV as there often isn't a lot of extra room when it comes to mounting things.
Overall, I think this particular winch is great value for the money  – especially when compared to similar Warn ATV winches.
There are many different Superwinch models to choose from and they range in pulling power from 2500# – 4500#.
Their most popular model was probably the Superwinch 3000. But this has been replaced by the Superwinch 3500.
Might as well get more pulling power if you can, right?
I recommend checking their prices on Amazon here.
Warn ATV Winch Review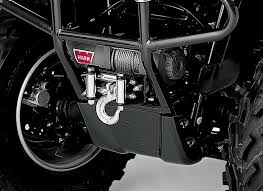 If you're looking for any sort of ATV or UTV accessories, it won't be long until you run into a Warn product.
They've been making winches for over 70 years.
So when they put out a new product, you know it's got a lot of research, development and all around experience behind it.
For our time here, we're going to be reviewing the Warn Axon 45RC winch, which has 4500 pounds of pulling power.
The thing that makes the Axon line of winches different from other Warn winches is that they've been designed in such a way that the motor and contactor built into the housing.
This means you don't have a million little wires running and connecting everywhere.
So the whole unit is pretty self-contained.
As this is a bit bigger winch than some ATV's need, you may end up getting it for a UTV instead, so the installation of things like the controls may vary. So this winch comes with both a dash mounted switch and a handheld remote to operate it.
(Because on a UTV you've got a dashboard to mount switches to, whereas with an ATV, you're mounting everything to the handlebars.)
One of the first things you'll notice when you go to mount this Warn winch is that it's a lot more compact than a lot of other units.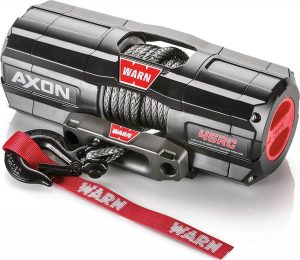 And mo' compact is mo' bettah, because it makes your life easier trying to mount it in small places.
But getting back to the winch itself, is that you'll notice that it has a powdercoated finish.
And this is a big step up because older models that were just painted were easily scratched. And once scratched, you know what happens.
It rusts.
That's what happens.
So the powercoating will hold up a lot better to the use and abuse you're going to put it through.
On the side, you'll notice a large red circle – like the old manual locking hubs on a 4×4.
And that's exactly what this is – a nice big, obvious locking hub that allows you to quickly and easily move from free-spooling to a locked position by just turning the dial.
The bigness (bigness?) of the dial makes it super easy to adjust. Even if you're wearing heavily insulated gloves, or the whole thing is covered in mud.
Warn's also got a load holding mechanical brake on the winch for when you do decide it's time to lock it down and hold a load.
The Warn Axon 45RC winch has 50 feet of 1/4″ thick cable to get you out of almost any tight spot you can get into.
A Brief Public Service Announcement:
One thing of note is that when using cable instead of a synthetic rope, a lot of people feel it's good form to use tree protectors like these ones if you're winching to them.
I'd recommend buying the tree protectors as part of a recovery kit that has a snatch block, some recovery straps and some shackles.
For me, I have a heavier duty recovery kit like this one. This way, I only need one kit. I throw it in the back of the truck and take it with me on the ATV. Then I don't have to buy two different kits.
Getting back to the Warn ATV winch itself…
Overall, this winch is an absolute beast.
And being made by Warn, you know it's going to last.
But, you're going to have to pay for it.
Warn stuff isn't cheap. But if you've got the money, it's about as reliable a piece of equipment as you're going to find.
You can check out the lowest price on Amazon here.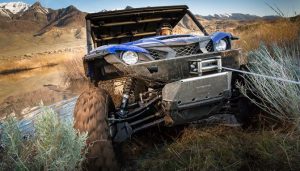 Which One Would We Have?
The Final Word on Our Winch Reviews
I absolutely love Warn stuff.
I really do.
They've been around forever and I just love the look of black and red.
But with the Warn ATV winch winch being more expensive than the Super ATV winch, I'm really leaning towards the Super winch.
Honestly, with winches, I think the technology is fairly basic.
And because of that, unless a manufacturer is using rubbish material in making the ATV winch, I honestly can't see how they could screw it up.
I agree that you need an ATV winch to work each and every time that you go to use it.
So reliability is important.
But I keep going back to the fact that companies have been making winches for DECADES now.
So I've got to believe that they've worked out any design flaws at this point. (Or at least learned from the mistakes of their competitors.)
And on that basis, I'd opt for a less expensive version of a winch.
The biggest difference I think you'll get between these winches here and cheaper winches (like Champion, Trakker, Traveller or Badlands) is how well they're sealed.
That's not to say that you're going to get junk inside of the cheaper winches, but by looking at the design alone, you can clearly see that the Superwinch ATV winch as well as the Warn ATV winch are sealed about as well as possible.
So with all that said, I'd give the nod to the Superwinch.
You can see the latest pricing on the Superwinch here, and you can see the latest pricing for the Warn Winch here.
Or, you can check out our cheap ATV winches review here if you're looking to save a bit of money.
(And put the savings towards other cool ATV accessories, of course!!)