Cheap ATV Winches Review – Your Guide To What Works & What's Garbage
When it comes to cheap ATV winches, I might not be as biased as some.
I know that a lot of people tend to put quite a bit of stock into a well known brand name, but I'm not quite as sure.
I'm not saying that companies like Warn or Superwinch don't deserve their spots at the top in the industry.
I'm just thinking the so called cheap ATV winches might not be as bad as a lot of people make them out to be.
As I went over in our high end ATV winch reviews post here, I feel that there really isn't much to an ATV winch.
At this point with companies having made winches for over 80 years, I think the design problems have been worked out.
And they aren't a product that's constantly evolving to a huge amount of technical change, so at this point, I'm Ok to assume that things are pretty much as good as they're going to get.
Sure, there may be a few tweaks here and there.
But does it really justify paying an extra $400+ in some cases for an ATV winch?
Let's be honest, most of us won't be using it all THAT much. (Or at least we hope we won't have to use to get out of trouble much!)
And so that's my stance on expensive vs cheap ATV winches.
Go and spend the money if you want (and I won't hold it against you), but for the most part, I think one of the cheaper winches here will serve you just fine.
And you'll get to put the money you save towards other quad accessories.
So let's get into this review.
The Cheap ATV Winches Review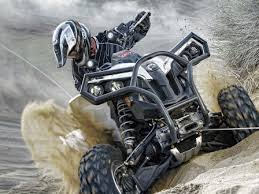 To get started, we're going to be looking at a Champion ATV winch review.
Champion has been around for quite some time now and is based out of Milwaukee, Wisconsin.
They offer a very diverse line of products such as generators, winches and various other engine driven consumer products.
So they've certainly got the experience and engineering "know how" when it comes to manufacturing products.
But today we're going to be looking at a:
Champion 4500 Winch Review – The Cheap ATV Winch King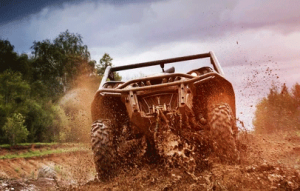 This particular winch is LOADED with options. Especially when you consider it's price.
Let's have a look at some of the features that come with it:
A wireless remote. This remote lets you operate the winch remotely. Even if you're up to 50 feet away! Where some winches have a remote that you plug in with a wire to operate, you can run this winch wirelessly. Now, is this an absolutely crucial feature? No, but it's a convenient one to have! This little thing is even smart enough to power down if your ATV isn't running. You know – so you don't accidentally drain the battery and have to hike 20 miles out of the woods. Or worse yet, try to push a dead ATV that far!
It can pull up to 4500 pounds of weight and it has 38 feet of cable.
This winch comes with everything you need. Mounting wires and controls are included and bolt into place without a problem. This makes for a very easy install.
A few of the drawbacks. Yes, there are some. But when this winch is about $300 cheaper than a Warn winch there are going to be a few little things that aren't as amazing.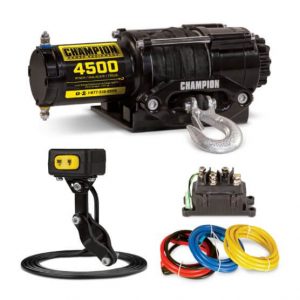 #1 – You can't use it continuously.
Yes, this could be a big drawback for some. But when using the Champion 4500 winch, you can only use it for about 1 minute and then let it relax for about 5 minutes.
Think of this as like the duty cycle on a welder.
Cheaper welders aren't able to weld continuously. They need a break.
Whereas more expensive welders have a longer duty cycle and can therefore weld for longer periods of time.
It's the same principle with cheaper winches. You're just not going to be able to winch continuously.
#2 – The Remote Winch
I know, I know. I said this thing was great.
And it is.
In theory.
I'm not saying that it doesn't work, but there is certainly a bit of a delay from when you push the button and when things start happening.
So it works – but just not immediately.
But I might just be picky.
#3 – The Fit and Finish
Again, with a cheaper ATV winch like the Champion 4500 winch the overall build quality just isn't going to be the same as with a Superwinch or Warn.
So little things like the casings or hardware isn't going to be quite as nice.
But all that being said – including the negatives I just listed – I think that this is a great winch for the money.
If you're in the market for a cheap ATV winch, I recommend you check the cheapest price on Amazon here.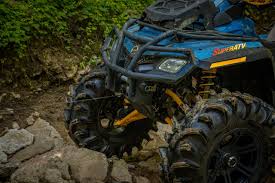 Badland 2500 Winch Review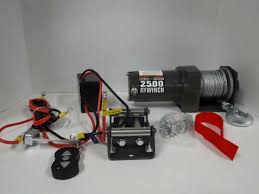 Before we get started, let me clear something up quickly.
Bandland winches (or badlands winches – depending on who's saying it) are harbor freight winches.
And it's one of the least expensive winch options out there. And that's saying something for cheap ATV winches.
This makes sense too, as it's only able to pull 2500 pounds (as compared to the other winches in this review that can pull a lot more). To be perfectly honest, I'm not even sure it can pull 2500#. I'd say it might only be able to pull less than 2000#.
And for me, if I'm going to buy a winch I'd like to know it's got the juice to pull me out of trouble.
So I'd rather go too big than too small.
One thing of note: you will need to buy a fairlead bracket for this winch if you end up getting it. I figured you'd want to know up front as there's nothing worse than having something arrive, only to find out that you need more parts before it'll work.
This is your bare-bones winch here without a lot of frills.
But for the most part it will get the job done.
It freespools pretty quickly and will pull.
It even has a wireless remote that you can use if you're less than 20 feet away from your ATV.
The drawbacks of this winch are the same as already listed above for the Champion winch but the fit and finish is not as nice as the champion.
Well, that and the wires that are included seem too short.
Harbor Freight is known for producing inexpensive stuff, and this winch is true to that.
If you want to find the lowest price on Amazon, you can check it out here.
And that about does it for our badlands ATV winch review.
Oh, other than to say that aside from the badland 2500 winch, they've also got a slightly bigger model – the badland 3500 winch.
So if you're looking for a little more pulling power, you can check out the badland 3500 winch here.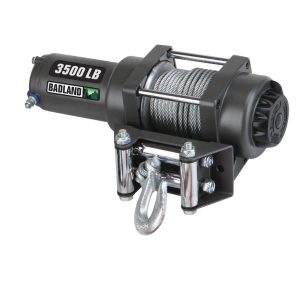 Traveller Winches Review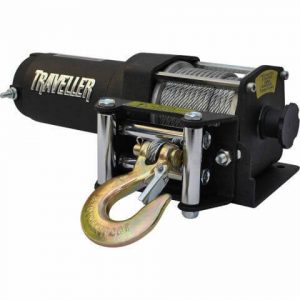 Traveller winches are sold by Tractor Supply.
They are known to lack the long-term durability of high end winches (like a Warn or Superwinch) but they're also a lot less expensive.
I'd say for out of the box power, these winches do a great job.
The 3500 is a pretty good winch. It features a powdercoat finish which is about as good a finish as you can expect on any winch.
Aside from that, it's pretty light and compact as it weighs about twenty six pounds.
I'd say overall it provides decent value for the money.
One big drawback is that traveller winches is that they are notoriously difficult to install on most ATV's.
Not quite sure why they have to make things difficult, but they seem to find a way.
At any rate, if you'd like to check them out at Tractor Supply, you can do that online here.
Trakker Winches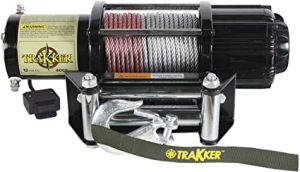 Trakker winches are made the the Keeper Corporation.
And they're mainly sold in Canada, eh?
All in all, Trakker makes a good winch.
They've got a lot of pulling power – especially when it comes to the Trakker KT4000 winch.
I've got one on my Yamaha Grizzly and we've used it to pull all kinds of stuff out of the bush.
Moose. Other quads. That kind of stuff.
It was already on the quad when I bought it so I didn't give it much thought when I bought the quad.
It works when its supposed to and does it's job.
The controls mount simply to the handlebars and are easy to use.
One complaint about it is that it's pretty easy to get the cable tangled up as the fairlead doesn't want to go back onto the spool nicely.
But that's kinda how it goes with all winches. So I guess I can't hold that against Trakker 🙂
In looking into them a little further, their price is about half of what a Warn winch would cost up here. So I'd say that's pretty good value for the money.
Final Thoughts on Our Cheap ATV Winch Review
All things considered, I think if I was looking for a new winch, I'd go with the Champion.
I think the Champion 4500 winch just offers so much value when you're looking at cheap ATV winches.
So dollar for dollar, I'd go for that one if I had to choose between all of these.
With that said, I'd suggest you check the latest lowest price on the Champion 4500 winch on Amazon here.