ATV Winch Ropes – UPDATED for 2021 – A Complete Guide
As I'm sure you know, a winch is an essential part of your ATV – and a big part of your winch is deciding between ATV winch ropes.
In fact, some might argue that a winch rope is THE most important part of your winch, as a winch isn't of much use without it.
Fair point really.
While winch cables have been around for ages, for the longest time the only options available were those made up of steel.
Today, winch ropes offer have much easier and safer alternative that still deliver effective results.
In this guide, I'll go over all you need to know about ATV winch ropes.
The guide covers all the things you need to consider so you can make an informed rescission.
Advantages of Using High-Quality ATV Winch Ropes
Over Metal Cable
There are several benefits to investing in a good quality winch rope.
Aside from making things safer and more convenient, here are a few other advantages they offer:
Lightweight
Winch ropes are lighter in weight than standard steel cables. This makes them easier to handle and results in weight savings on the front end of your machine. Steel ropes can be hundreds of pounds in weight and demand multiple people to handle them. Synthetic ATV winch ropes on the other hand can be up to 80 percent lighter and are very easy to handle.
Reduced Risk
ATV winch ropes are different from steel cables because they won't kink. They also don't hold any memory of past strains. (IE so they won't be all bent and twisted from previous use.) This means they perform like new and there is no risk of breaking.
Safety
Another great advantage of ATV winch ropes is safety. If you get into a situation where the rope breaks, it just falls away and doesn't cause injury. It won't fly around like a steel winch cable because the rope doesn't store energy when in use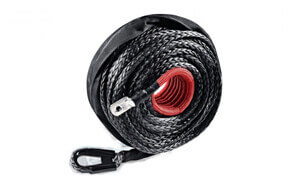 Key Features of ATV Winch Ropes
Let's look into some of the factors you should take into consideration when buying a new ATV winch rope.
These features help narrow down your options and make it easy to pick the right rope for you.
Length
Ultimately, you'll need to choose a product that will cover the amount of distance you want to winch. This means getting a product that covers the distance between the anchor point and the ATV plus some extra. You can find winch ropes in varying lengths ranging from 50 feet long made for ATVs to up to 100 feet aimed at heavy-duty trucks.
Tensile Strength
Your rope will be pulling your vehicle so it needs to have an appropriate amount of tensile strength. This ensures the rope will not break when it's pulled hard. You won't be able to use the winch if your rope can't handle the load you want to pull. Always check the tensile strength specification of the product you are buying.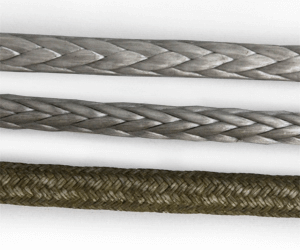 Durability
When you buy a new ATV winch rope, durability should be your top consideration. You want something that will perform and last a long time. Synthetic winch ropes can be more durable than cables, but you need to look for a quality rope.
Cost
ATV winch ropes vary a lot in terms of price. It's important to consider the price to make sure it suits your budget so you don't end up spending more on features you don't need.
Abrasion Resistance
A winch rope needs be highly resistant to abrasion because of the terrain you'll be going over and how you're going to use it.
Best ATV Winch Ropes – UPDATED for 2021
I've shortlisted some of the best ATV winch ropes for you to look at in the form of some short reviews for each of them.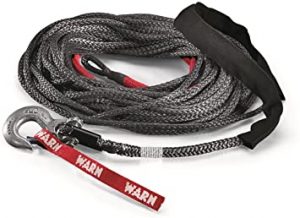 Suitable for a wide range of WARN ATV winches, the 50-feet synthetic rope is flexible, lightweight and easy to handle. It's a strong and high-quality rope with a thickness of 3/16-inch and makes a great replacement for an old winch cable. It even includes a rock guard sleeve and can pull ATVs and trucks without breaking easily.
Pros
• An ideal alternative to wire rope
• Easy to use and causes less fatigue
• Flexible, lightweight and easy to install
• Good strength and can be used in snow
• Includes a rock guard sleeve.
Cons
• Becomes fragile when wet
• Can't eliminate kinking risk completely
You can check out the lowest price from Amazon here.
Designed to work with UTVs, ATVs and SUVs with a winch in the range of 2500-4500 pounds, this 50-feet rope is lighter than a steel cable and can be used over and over. It's strong, flexible and easy to use and there is no risk of cutting your hand when using it. (When running a steel winch cable, always remember to handle it with gloves. If there are any broken strands, they will open your hand up like a sharp knife!)
It stands out from other options for its great tensile strength and abrasion resistance. Overall, it's a strong and affordable choice for an ATV winch rope.
Pros
• High strength of 6500 pounds
• Doesn't cause much fatigue when handling it
• Easy to install and handle
• Ideal for a huge variety of ATVs and other vehicles
Cons
• Doesn't work well in wet conditions
• There is no warranty
You can check out more information on this winch rope here.
Designed to fit any ATV winch, this rope comes with additional components like a rubber stopper, steel snap hooks and protective sleeve. It also includes a bag that makes it easy and safe to carry. This synthetic rope is available in three different sizes and tensile strengths to choose from. It stands out for the amazing safety it offers because there's risk of somebody getting hurt.
Pros
• This model is heavy-duty and lightweight
• The rope is easy to handle and install
• Universal fit makes it ideal for all the ATV models
• Comes in size and strength options
• Protective sleeve for protection against wear and tear, slippage and overheating
Cons
• It's weight limit lowers its strength
• there is a risk of breaking
• there is no warranty
You can check this winch rope out here with the lowest price on Amazon.
Final Thoughts
I hope this guide helps you find the perfect winch rope that fits your needs.
Remember to look for one with good strength, durability and abrasion resistance to make sure it lasts a long time and can stand up to heavy use.
Keep in mind, that synthetic ropes aren't as abrasion resistant as steel cables, so you'll need to use a sleeve protector (sometimes called a "tree" protector) to make sure that your rope isn't getting frayed or torn when you winch around something like a rock or  a tree. (And they won't damage a tree like a steel cable can.)
These protectors come as part of a winch recovery kit like this heavy duty one.
Inspect your ATV winch rope from time to time for cuts and to check general wear. Over time, UV rays from the sun can damage and weaken a winch rope.
If you haven't purchased a winch yet, have a look at our ATV winch reviews here.