Denali Snow Plow Review – UPDATED 2020 – A Complete Guide
Well, here we are: the Denali snow plow review.
And after all, why not?
Because when the snow starts falling, you need a good snow plow that works with your ATV or UTV and saves you from the hassle of shoveling the sidewalk or driveway.
After all, why break your back if you don't have to?
Especially when it's waaay more fun to move the snow with an ATV or UTV.
Not to mention you can save money clearing it yourself. And you might be able to make money clearing other people's driveways too!
In fact, I've heard of some people paying for their ATV this way.
Assuming of course, they don't work exclusively for beer…
Besides that, a snow plow is truly a worthy investment for people living in places that get a lot of snow in winter.
But with so many options in the market, choosing the ATV snowplow can be difficult. (We have reviews on a few different ones here if you decide the Denali snow plow isn't for you.)
In this post, we run through the Denali snow plow models and take a closer look at what they have to offer.
I'll discuss in detail their features, advantages and limitations to help you see if this might be a good snowplow for you.
The Denali Snow Plow Review – The Latest Update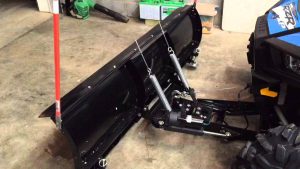 If you're looking for an affordable and reliable solution to remove ice and snow from different surfaces, Denali plows are a great choice!
They are some of the most popular plows in the market today and are designed to handle the toughest weather conditions.
This particular line of snow plows is introduced by MotoAlliance, a US-based manufacturer of powersports accessories.
Denali UTV and ATV snow plows stand out because of their unique 'Easy Connect' design that attaches the plow to a machine quickly and with minimal effort.
They come with center-mounted, vehicle-specific plates that distribute the impact to the strongest part of the machine so that no damage is caused to the front end if you hit something.
Of course, you'd never do that on purpose. Or have had a couple beers. No. Never.
Anyways…
Denali snow plow models come as a traditional straight blade as well as a DOT/county style depending on what you want. They work regardless of whether you're currently running tires or tracks and even allow using a hydro-turn system to save you from getting out of the UTV to turn the blade.
For the uninitiated: A Hydro-Turn system is simply a hydraulically operated blade turning system. So you can move the blade hydraulically using controls mounted in the cab of a UTV or on the handlebars of an ATV. This means you don't have to get off your machine and manually adjust the blade when plowing.
And we all know this is a pretty big advantage.
One other quick thing to know about this system is that it uses a Parker brand hydraulic system. And Parker is known in the hydraulic industry as having incredible quality.
Denali UTV ATV Snow Plow Kit Review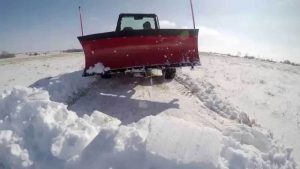 As a fully-featured kit that installs a 72-inches snow plow, this Denali UTV ATV is for those who are running a big ATV or a UTV in extreme conditions.
It comes with everything you need to connect the system with the ATV .
And it features a 2-inch front receiver, making it compatible with UTV's.
The blade is made of heavy gauge steel to make sure it's incredibly durable. It also has a total of seven gauge ribs through the length of the blade to deliver additional support and stability.
The kit includes push tubes, mount blade, replaceable wear bars, adjustable skid feet and plow blade. (If you want to check the lowest price on Amazon, you can do it here.)
Their Universal ATV Snowplow
The universal snow plow from Denali comes in two size options – 50 inches and 60 inches.
This again features their "easy connect design" so your install is easy.
Just like their bigger plow system, this one features rugged, heavy-duty construction and a tonne of options.
From brackets made to accommodate various frames ATV frames and multiple U bolts to ensure a secure fit, it offers great value for money for the money.
The Universal ATV snow plow from Denali fits most ATV models and comes with a heavy-duty straight pow blade constructed out of 11-gauge steel.
It also includes two replaceable wear bars, adjustable skid feet, push tubes and installation hardware.
This is an excellent equipment for homeowners or anyone just doing a few driveways.
You can check the lowest price on Amazon here.
If you want to get into more of a commercial set up, you may want to look into ATV snowblowers or the Boss ATV snowplow review we did here.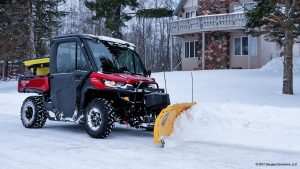 ATV Snow Plow Installation – What Do You Need to Know?
The three main components of a snow plow are the plow blade, the plow tube and the mounting plate.
The blade comes in varying sizes ranging from 42 inches to up to 78 inches.
Depending on the style and manufacturer the blade can be made out of polyurethane, steel or aluminum and can be v-shaped, straight or tapered.
Then, there's the mounting kit that fits to the front, middle or rear of the vehicle.
The snow plow has push tubes that connect to the mounting hardware and the front of the UTV or ATV.
Depending on the style of push tube, some have multiple mounting angles or feature a mechanism that let's them reset if they run into something.
This is often referred to as the "trip kit" which is generally made up of 2 heavy duty springs that allow the blade to tip forward (removing some of the shock of impact) in case  you hit something.
Then, there are skid plates (or feet) that make sure the blade stays a little higher than the surface being plowed to avoid any damage.
This also helps keep dirt and gravel from getting scooped up along with the snow.
Your ATV snow plow should come with a user manual that walks you through the installation of it, so make sure you go through it carefully.
To start, you'll need to lift your ATV. This will let you install the mounting plate in either a mid-mount or forward-mount fashion. Exactly which way you mount it depends on the snowplow kit.
From there, you use the included bolts to secure your snow plow in its position.
Next, you attach the plow tube with a set of latches and pins to the front of the vehicle.
Finally, you use a screwdriver to install the plow blade.
It probably sounds more complicated than it is.
If you have a snow plow that's compatible with your UTV or ATV, the process is pretty straight forward.
Conclusion
The Denali snow plow is definitely one of the best snow tools you can add to snow removal arsenal.
And as I mentioned before, I think it really offers a lot of value for your money.
And there are multiple sizes and fitments. So you won't have a problem finding one to fit your ATV or UTV.
Intrigued with the idea of getting a Denali snow plow? Check out the lowest price on a Denali snowplow here at Amazon.